BBC National Short Story Award 2014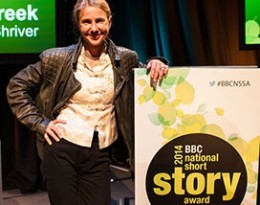 Latest update
'Submissions for the 2017 Award are now closed'
Lionel Shriver has won the BBC National Short Story Award 2014 for her story 'Kilifi Creek'.
Shriver had been shortlisted three times for the Award, and this year she picked up the main prize of £15,000 at the ceremony held in the BBC's Radio Theatre in London on 30 September. She was presented with her cheque by this year's Chair of Judges, Alan Yentob, as the news was announced live on BBC Radio 4's Front Row, during a special programme celebrating the short story. You can watch the ceremony again on the Books at the BBC page on the BBC Arts website.
Chair of judges and BBC Creative Director and presenter, Alan Yentob, said:
From a fantastic shortlist, Lionel Shriver's 'Kilifi Creek' stood out as a wonderful evocation of life in miniature, crossing continents and generations. She is a worthy and deserved winner in an exciting year when the short story has taken centre stage. Shriver proves that short really is sweet and it's never been sweeter than now.
Zadie Smith was selected as this year's runner-up, receiving £3,000 for her story 'Miss Adele Amidst the Corsets' in which an ageing American performer comes face-to-face with a multitude of resentments while buying undergarments on the East Side of New York City. It was first published in the Paris Review earlier this year. Zadie Smith is the author of the novels NW, White Teeth, The Autograph Man and On Beauty; a collection of essays, Changing My Mind; and a short story called 'The Embassy of Cambodia'. She said she enjoys writing short stories for, 'the possibility of staying in the present moment for a whole piece of work'.
Readers can listen to the BBC Radio 4 broadcasts of 'Kilifi Creek', 'Miss Adele Amidst the Corsets' and the three other shortlisted stories read by five UK's top actors – including Carey Mulligan and Rebecca Hall – at for up to 30 days after their first airing. The BBC National Short Story Award 2014 Anthology, published by Comma Press, is available at all good bookshops, as well as in Kindle format.
The aim of BBC National Short Story Award, which is open to UK residents, aged 18 or over, who have a history of publication in creative writing, is to promote the best of contemporary British short fiction. To celebrate the Award's 10th anniversary in 2015, the BBC and Booktrust are expanding their partnership to launch the brand new BBC Young Writer's Award with Booktrust. The inaugural BBC Young Writer's Award will launch in December alongside the BBC National Short Story Award 2015. It will invite young writers, aged 14 to 18 to submit short stories of up to 1000 words. A shortlist of five writers will be announced in autumn 2015. The winner, who will see their story broadcast on air and receive a mentoring session with an adult writer, will be celebrated at the annual BBC National Short Story Award ceremony.
Viv Bird, Chief Executive, Booktrust, commented:
After nine successful years working together with the BBC on the BBC National Short Story Award, we are delighted to be extending our partnership to launch a brand new award for writers aged 14-18 to coincide with the 10th anniversary. The BBC Young Writer's Award will complement our existing work with schools and young people to encourage them to read, share and write stories, and enable us to inspire a new generation of writers to follow in the footsteps of our 2014 winner Lionel Shriver, to whom I'd like to give my sincere congratulations.
For further information on the Award, follow @Booktrust and #BBCNSSA on Twitter or email: bbcnssa@booktrust.org.uk
Shortlist
In the third all-female shortlist in nine years, five writers tackle pivotal moments in a woman's life from girlhood to middle age, including sex and love, death and disintegration. Transporting readers across the world from New York to Kenya, London to Paris, and to a Welsh seaside town, the stories feature a gap-year student who cheats death; a performer coming to terms with middle age, a disappointed lover; and two young girls whose eyes are opened to a more complicated adult world.
Alan Yentob, Chair of Judges commented:
The enthusiasm of writers, both established and emerging, is very much in evidence in this, the ninth BBC National Short Story Award. With the quality and diversity of the work submitted, it has been a pleasure and a challenge to serve as this year's Chair. Choosing just five stories for our shortlist has been no mean feat, but I am delighted that we have been able to present such a rich and varied selection. The short story form has a unique ability to capture a single defining moment. It invites us to dive headfirst into another world and to savour an experience which can remain with us for a very long time to come. In their very different ways these five stories do just that.
The BBC National Short Story Award 2014 was at the Small Wonder festival with a shortlist panel event at 4pm on Saturday 27 September, featuring Di Speirs, Philip Gwyn Jones, Tessa Hadley and Lionel Shriver.
Judges
The 2014 judges are:
Chair of the panel, Alan Yentob, BBC Creative Director and presenter
Philip Gwyn Jones, Editor-at Large, Scribe Publications
Laura Dockrill, writer, illustrator and performer
Poet and novelist, Adam Foulds
Di Speirs, Editor, Books, BBC Radio
About the BBC National Short Story Award 2014
For updates on the Award follow #bbcnssa on Twitter.
Previous winners
2016 Orr 'Disappearances'; runner-up Claire-Louise Bennet 'Morning, Noon & Night'
2015 Jonathan Buckley 'Briar Road'; runner-up Mark Haddon 'Bunny'
2014 Lionel Shriver 'Kilifi Creek'; runner-up Zadie Smith 'Miss Adele Amidst the Corsets'
2013 Sarah Hall 'Mrs Fox'; runner-up Lucy Wood 'Notes from the House Spirits'
2012 Miroslav Penkov 'East of the West'; runner-up Henrietta Rose-Innes 'Sanctuary'
2011 D W Wilson 'The Dead Roads'; runner-up Jon McGregor 'Wires'
2010 David Constantine 'Tea at the Midland'; runner-up Jon McGregor 'If It Keeps On Raining'
2009 Kate Clanchy 'The Not-Dead and the Saved'; runner-up Sara Maitland 'Moss Witch
2008 Clare Wigfall 'The Numbers'; runner-up Jane Gardam 'The People on Privilege Hill'
2007 Julian Gough 'The Orphan and the Mob'; runner-up David Almond 'Slog's Dad'
2006 James Lasdun 'An Anxious Man'; runner-up Michel Faber 'The Safehouse'
Please go to bbc.co.uk/nssa for more information on the BBC National Short Story Award.
Terms and conditions for the 2017 Award are available from 26 January 2017, until the deadline of 6 March 2017.