About us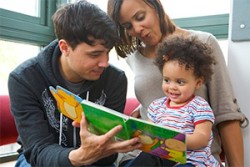 BookTrust transforms lives by getting children and families reading
BookTrust is the largest reading charity in the UK. We work to inspire a love of reading in children because we know that reading can transform lives. We give out over two million carefully chosen books to children throughout the UK. Every parent receives a Book Trust book in their baby's first year.
Our books, guidance and resources are delivered via health, library, schools and early years practitioners, and are supported with advice and resources to encourage the reading habit. Reading for pleasure has a dramatic impact on educational outcomes and well-being and social mobility, and is also a huge pleasure in itself. We are committed to starting children on their reading journey and supporting them throughout.
Find out about the impact of our work
Did you know...

...that the average deaf teenager leaves school with a reading age of nine?
Chloe was born with a serious hearing impairment. With the help of a specialist pack from Book Trust she has taken an interest in nursery rhymes. It helped her to engage with the rhythm and sounds. She loved the repetition, which helped her understand language.

It was really difficult for her when she was first prescribed a hearing aid as she didn't like wearing it, but now she asks to wear it so she can hear all the rhymes. Her focus and concentration have both improved, which will help her at school, and she can't wait to learn to read.
BookTrust gives 1,000 Booktouch packs to hearing-impaired children annually.
---
If you would like to help please give a donation or fundraise for BookTrust


Stay in touch and sign up to our newsletter
The BookTrust CEO talks about our new Writer in Residence and why it's important to read what you love.
Did you know?
57.5 million books have been gifted by Booktrust since 1992