Roald Dahl Funny Prize 2013 shortlist announced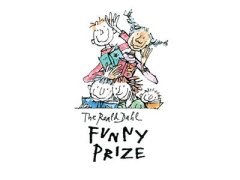 24 October 2013
Whizzpopping bottoms kick off the giggles on this year's Roald Dahl Funny Prize shortlist
A menagerie of yetis, weasels, geeks and losers fill the shortlist for this year's Roald Dahl Funny Prize, which celebrates the funniest books for children in two categories – for children aged six and under, and children aged 7-14. Six books have been selected for each of the two categories, and the winner of each will receive £2,500, which will be presented at an awards ceremony at the Cambridge Theatre in London, home to the Royal Shakespeare Company's multi award-winning production of Roald Dahl's Matilda The Musical, on Tuesday 10 December.
The titles in the younger category include everything from weasels with their eye on world domination to a sound button book that leaves nothing about woodland animals' noisy bottoms to the imagination! The older category includes badly behaved parents, the diary of an accidental nudist, and a geeky teenage girl who finds herself a model.
Illustrated fiction is not just popular on the 0-6 shortlist this year, as it also features on the 7-14 category, with a title from the David Fickling Comic library, Fish-Head Steve! by Jamie Smart and the illustrations of Jim Smith with his second book in the I am Not a Loser series.
Previous RDFP winner and judge Philip Ardagh is back on the shortlist this year with The Grunts All At Sea, with illustrations from The Gruffalo's Axel Scheffler. Ardagh's publisher Nosy Crow have an impressive showing on the shortlist, with three entries in total, including two picture books in the younger category.
This year's shortlist in full:
The Funniest Book for Children Aged Six and Under
Weasels by Elys Dolan (Nosy Crow)
Spaghetti With the Yeti by Adam and Charlotte Guillain, illustrated by Lee Wildish (Egmont)
Troll Swap by Leigh Hodgkinson (Nosy Crow)
Monkey Nut by Simon Rickerty (Simon and Schuster)
Do Not Enter the Monster Zoo by Amy Sparkes, illustrated by Sara Oglivie (Red Fox, Random House Children's Books)
Noisy Bottoms by Sam Taplin, illustrated by Mark Chambers (Usborne)
The Funniest Book for Children Aged Seven to Fourteen
The Grunts All At Sea by Philip Ardagh, illustrated by Axel Sheffler (Nosy Crow)
My Parents Are Out of Control by Pete Johnson (Yearling, Random House Children's Books)
Pants Are Everything by Mark Lowery (Scholastic)
Geek Girl by Holly Smale (HarperCollins)
Fish-Head Steve! by Jamie Smart (David Fickling Books)
I Am Still Not a Loser by Jim Smith (Egmont, Jelly Pie)
The Prize will see schools across the country involved in the judging process. Over 200 pupils have been selected to read the shortlisted titles, discuss with their classmates, and pick their favourite funny book in the relevant category for their age. Their votes will then be combined with the votes of the adult judging panel to find the two winners for 2013. Classes who participate can also win a chance to attend the winner's announcement.
This year's judging panel included comedian John Kearns, Guardian columnist Marina Hyde, author and illustrator Sarah McIntyre and last year's RDFP winning author in the 7 – 14 category Jamie Thomson. The Award is as ever chaired by Michael Rosen.
Judge, writer, comics-creator, and illustrator of Oliver and the Seawigs, Sarah McIntyre comments:
I loved the criteria for this prize; we weren't trying to pick the books that were the most clever or wise, but the ones that left us gasping with laughter. Reading through the list, I was struck by the importance of well-chosen illustrations. A drawing has to strike just the right note: hit it wrong, and it can ruin a joke by giving it too much weight or by telling the joke twice and killing its comic timing. But hit it right and it can be a side-splitting joke in itself, a punch-line for a joke, or a hilarious counterpoint to a deadpan phrase. I enjoyed the wide range of humour in our book list; everything from gently rollicking adventures to embarrassing situations so awesomely cringe-making that I wanted to climb under the sofa. I think it's great that funny books can get kids stuck into reading at the same time as helping them learn a skill that helps us all deal with life: learning to laugh at our own foibles.
Find out more about the Roald Dahl Funny Prize and the books on this year's shortlist