The Ultimate List: Our 100 best children's books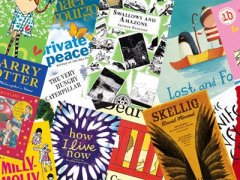 7 October 2013
We celebrate Children's Book Week with Amazon Kindle by announcing our list of 100 books every child should read before they're 14.
Drawing from over 90 years' experience of recommending children's books, our experts have put together a list of the 100 best children's books for Children's Book Week 2013. We're now asking everyone to join the debate and vote online for their favourites from the list - with the nation's top books announced on 25 November.
The exciting 100 combines an eclectic mix of traditional classics and modern greats that we believe are must-reads to fire children's imaginations and turn them into life-long readers. The cut-off age of 14 was chosen as beyond that, children tend to progress to more adult literature.
Take a look at the books on our list
Read more about how we selected the books on our list

Find out more about Children's Book Week 2013
UPDATED: We invited you to let us know which titles you thought were missing from our 100 Best Books list - now take a look at our booklist of your favourites. Leave a comment below if you'd like to suggest any further titles to add to this list.
Alert Feed
They work for you: keeping tabs on the UK parliament and assemblies
BBC: Royal Charter - Question

My Lords, does the Minister agree that the building of religious literacy and the understanding of diverse communities within our...

Poverty - Motion to Take Note

...the UK who left education without any formal qualification experienced poverty at least once between 2011 and 2014. The point...
Did you know?
Booktrust gifts 2.6 million book packs each year
Donate
£11 per month would make a child in care feel special by receiving regular parcels filled with books, writing materials, CDs and games
Most popular
Most popular

Most reviewed books