The Ultimate List: Our 100 best children's books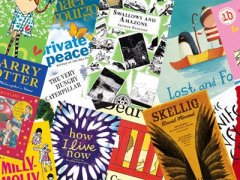 7 October 2013
We celebrate Children's Book Week with Amazon Kindle by announcing our list of 100 books every child should read before they're 14.
Drawing from over 90 years' experience of recommending children's books, our experts have put together a list of the 100 best children's books for Children's Book Week 2013. We're now asking everyone to join the debate and vote online for their favourites from the list - with the nation's top books announced on 25 November.
The exciting 100 combines an eclectic mix of traditional classics and modern greats that we believe are must-reads to fire children's imaginations and turn them into life-long readers. The cut-off age of 14 was chosen as beyond that, children tend to progress to more adult literature.
Take a look at the books on our list
Read more about how we selected the books on our list

Find out more about Children's Book Week 2013
UPDATED: We invited you to let us know which titles you thought were missing from our 100 Best Books list - now take a look at our booklist of your favourites. Leave a comment below if you'd like to suggest any further titles to add to this list.
Alert Feed
They work for you: keeping tabs on the UK parliament and assemblies
Scottish Parliament: Mental Health Education

...the debate is concluded. The Scottish Government put down a marker in this area when it launched the Scottish attainment...

Scottish Parliament: Early Learning and Childcare Provision

...spend with highly qualified practitioners can contribute to our efforts to close the attainment gap in school. As our motion...
Did you know?
Over 200,000 Year 5 and 6 pupils read 850,000 books as part of the Read for My School competition each year
Donate
You can become a BookTrust Friend for as little as £3 a month and help us ensure that no child misses out on the live-changing benefits of reading
Most popular
Most popular

Most reviewed books