New research flags importance of quality time reading as a family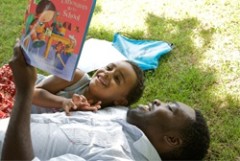 8 September 2016
Our Time to Read campaign launches today, encouraging families to read together more - as research shows people are getting stuck in their 'bubbles'.
The research from BookTrust reveals that almost two-thirds of parents of primary school children worry about a lack of shared family time.
This is mainly down to the distractions of social media, technology and school homework, causing families to feel like they live separate lives under the same roof.
In fact, nine out of ten parents want their family to have more quality time together - and finding time to read could be the answer.
More about our Time to Read campaign


Books burst 'bubbles'
Our study, which polls 2,000 parents of children aged 5-11, shows that many parents are aware of the benefits of reading with their children: 65% state bonding and physical closeness as the top perk.
However, parents admit to reading less with their children as they rise through primary school. On average, 86% read to a child aged 5 every, or every other, day - while this falls to 38% for parents of 11 year olds.
Yet academic research indicates that shared reading benefits the emotional health and wellbeing of children.
As a result, families may be missing out on the emotional gains of spending time together with books. Shared reading could also be the perfect way to open children up to new conversations and help burst the family 'bubble'.
Benefits for life
Today, we are launching our national campaign, Time to Read, to encourage families to read together more - even when children are 'too old for a bedtime story'.
As part of this campaign, we are giving a free book to every Reception-age child across the country (that's 700,000 in total). This year's fantastic choice is Kitchen Disco by Clare Foges and Al Murphy (Faber & Faber). We will also be sharing tips and advice on how to make shared reading fun.
Diana Gerald, chief executive at BookTrust, comments:
When children get older and learn to read for themselves, it can be tempting for parents to step back and let them continue their reading adventures alone. However, research shows the enjoyment of reading, developed through shared reading time with parents or carers, has a significant positive impact on a wide range of life outcomes, including social, personal, health and well-being, and educational.

It is now widely acknowledged that children who enjoy reading will read more often and this helps them do better at school, even in subjects like maths. Indeed, reading for pleasure regularly has more of an impact on a child's educational achievement than having a parent with a degree.

It is the combination of skills and a love of reading that enables children to achieve academically and in life. We know that this lifetime love of reading is sparked by reading together, and the shared adventures that books can offer well beyond the nursery school years.
Reading to bond
Professor Peter Fonagy, head of the Research Department of Clinical, Educational and Health Psychology at UCL, and Chief Executive of the Anna Freud National Centre for Children and Families, adds:
A strong, lasting bond between families and children is founded on shared interests, excitement, and wonder - all of which can be achieved by reading for pleasure, which opens doorways to safely explore new worlds and concepts that fire their imaginations.

Children have a multitude of developmental needs that can all be served simultaneously by reading together with parents or carers they love and trust. The long-term cognitive and emotional benefits are clear - reading together promotes optimal interpersonal, developmental and educational functioning in later life.
Find how to get involved and make Time to Read