Here are the books on the Blue Peter Book Awards shortlist for 2016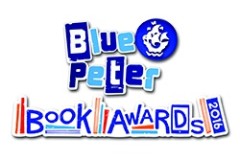 3 December 2015
It's another exciting year for the Blue Peter Book Awards, with a shortlist of children's reads that tackle big issues - with humour, magic and a splash of silliness.
The Blue Peter Book Awards celebrate the best authors, most creative illustrators and the greatest reads for children.
Three best stories


This shortlist includes the latest hilarious, heart-breaking book from Frank Cottrell-Boyce, beloved writer of the London Olympics opening ceremony.
His book, The Astounding Broccoli Boy, is illustrated by Steven Lenton. It is competing for the Best Story Award along with Lara Williamson's The Boy Who Sailed the Ocean in an Armchair and The Nowhere Emporium by Ross MacKenzie.
All three books are funny but also tackle powerful issues, including bullying, being different, dealing with a parent's death, and living in a children's home.
Best books with facts


Shortlisted in the Best Book with Facts category is Penny Arlon's FactFeed, a book of lists reinvented for the YouTube and BuzzFeed generation. Its publisher, Scholastic, describes it as 'great for reading on the loo'.
It is up against Adam Frost's The Epic Book of Epicness and The Silly Book of Weird and Wacky Words, written by Andy Seed and illustrated by Scott Garrett.
Andy and Scott won the Best Book with Facts category in 2015 with their book The Silly Book of Side-Splitting Stuff.
Fun but tough for the judges
The four judges of the awards are Angellica Bell, author Pamela Butchart, Jim Sells and non-voting chair Ewan Vinnicombe, editor of the Blue Peter programme.
They cited the challenging topics in the books vying for Best Story and said many made them cry with laughter but also with sadness.
TV presenter Angellica Bell described the judging experience as 'no mean feat reading 40 books cover to cover' - but claims it's ignited a passion for reading.
'When I was young, I didn't read all that much and felt I had missed out on a fun, imaginative part of the growing up process. Reading from a young age allows people to escape and be whoever they want to be.
Being part of this judging process has allowed me to experience those feelings now. As a mother, I want my children to love books and feel that they can be transported to different worlds and experiences anytime, anywhere!
Also taking part in the judging was National Literacy Trust programme manager Jim Sells, who said: 'Choosing the shortlist was great fun but pretty tough.
I'm particularly happy because these books have huge potential to engage children who don't think there is anything out there that they would like to read. The story books explore powerful themes but are written in a way which is easy to understand, while the fact books are really interesting.
Kids choose the winners
More than 200 schoolchildren, from ten schools across the UK, will now pick the winners in each category.
Watch Blue Peter on World Book Day, 3 March 2016, to see which two books scoop the prize.
The winners will be announced by Children's Laureate Chris Riddell.