BBC National Short Story Award in partnership with Book Trust - shortlist announced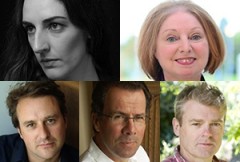 16 September 2015
The Curious Incident of the Dog in the Night-Time author, Mark Haddon joins Jonathan Buckley, Frances Leviston, Hilary Mantel and Jeremy Page on this year's shortlist.
Selected from 438 entries, this year's shortlist is:
'Briar Road' by Jonathan Buckley - A psychic investigates the case of a missing teenager.
'Bunny' by Mark Haddon - A morbidly obese young man makes an unlikely friend as his world shrinks around him.
'Broderie Anglaise' by Frances Leviston - A tale of tensions between a mother and a daughter.
'The Assassination of Margaret Thatcher' by Hilary Mantel - An intruder hovers at a window hoping to catch a shot at Margaret Thatcher.
'Do It Now, Jump The Table' by Jeremy Page - A young man meets his girlfriend's parents for the first time - not knowing that they are nudists.
The winner of this year's Award will be announced on Wednesday 6 October live on BBC 4's Front Row. The winning author will receive £15,000, the runner-up £3,000 and the remaining shortlisted authors will receive £500.
Interviews with each of the shortlisted writers will be broadcast over five weekdays on Front Row at 7.15pm from Friday 18 to Thursday 24 September 2015. Each writer's story will be then be broadcast on BBC Radio 4 at 3.30pm on the following working day, from Monday 21 to Friday 25 September 2015. Each story will also be available as a free download from the day of broadcast for 30 days.
To mark the tenth year of the Award, the BBC and Book Trust launched Student Choice, in which nearly 500 16-18 year old students from 20 schools around the UK cast their own votes on the shortlist. The Student Choice winner will be announced at the award ceremony on 6 October.
This year also sees the launch of the BBC Young Writers' Award with Book Trust for 14-18 year olds. The winner of the Young Writers' Award will also be announced on 6 October.
This year's BBC National Short Story Award anthology is now available to buy from Comma Press. You can also listen to each of the five shortlisted stories read on BBC Radio 4.
Find out more about the BBC National Short Story Award in partnership with Book Trust