Pugs of the Frozen North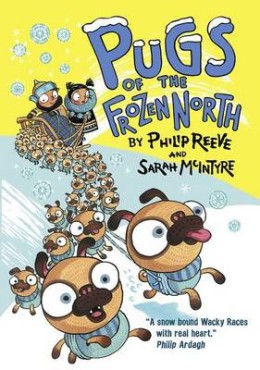 by
Philip Reeve
Illustrated by Sarah McIntyre
Reading Age: 7+
Interest level: 7+
by
Philip Reeve
Illustrated by Sarah McIntyre
Reeve and McIntyre collaborate on their third wacky adventure story, this time set in the frozen north. Orphan Shen is shipwrecked, together with 66 pugs, on the edge of the Arctic. He discovers the Po of Ice (not what it seems), and pledges to help Sika take her grandfather's sledge in a race to meet the Snowfather, who can grant wishes. Harnessing the pugs, they set off, and overcome many legendary dangers, and some dastardly fellow contestants.
Infused with excitement and humour, both splendidly represented in words and the icy two-tone illustrations, serious messages about helping others and facing the death of family members pervade the narrative. The endpapers are especially fun, as the final spread names all 66 pugs!
Publisher: Oxford University Press
About the authors
More like this
Oxford University Press

For as long as he can remember, Oliver has been...

Oxford University Press

Astra and her family are off on an exciting journey...