The Enchanted Wood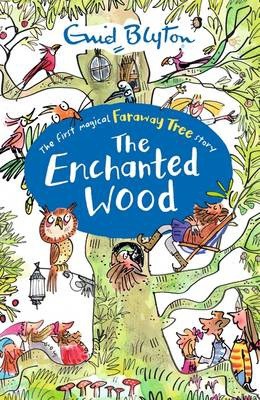 by Enid Blyton
Reading Age: 7+
Interest level: 6+
by Enid Blyton
When Joe, Beth and Frannie move into a new home, they discover a mysterious wood on their very doorstep. Soon, they discover that it's actually an Enchanted Wood, and home to a wonderful Faraway Tree.
Inside the Enchanted Wood, they make all kinds of unusual new friends, including Moonface, Silky the fairy and the hard-of-hearing Saucepan Man, and soon find themselves involved in a host of exciting adventures. Best of all is the discovery that strange new lands can be found in the clouds at the very top of the Faraway Tree itself - from the Land of Spells to the Land of Treats to the Land of Do-As-You-Please.
This delightful story from classic children's author Enid Blyton was first published in 1939 and has delighted children ever since. This new edition has been given a more modern face-lift - for example, changing the children's names (originally Joe, Bessie and Fanny) for more contemporary-sounding alternatives - but all the fun and magic of Blyton's original has been retained for a new generation of readers.
Publisher: Egmont
More like this
Hachette

For an archetypal school story, take the following: a heroine...

Hodder Children's Books

Meet Enid Blyton's most famous characters - Julian, Dick, Anne,...
What you thought
This is my favourite book of all time. I'm now 33 years old and can still clearly remember the many happy hours I spent reading this book. I started reading this at a fairly young age and would sit for ages on my bed, lost in the world of the Enchanted Wood and wishing something like finding the Magic Faraway Tree would happen to me instead of having to play cops and robbers with my brother. I also began reading lots more Enid Blyton and as a result became an avid fan of the Famous Five and the Secret Seven. I know some people think Enid Blyton books are stuffy and dated but to me they are my childhood and I cannot wait to plough through them once again with my 5 year old. Fantastic!
Editor's pick
Hayley
Yorks
7 October 2013
Vidhi
HADAPSAR pune
17 December 2016
I love it, it is very magical and has a lot of characters. Definitely recommend for people who love adventures.
I love this book! It will probably be a classic one day..but it is still super funny! I love all the characters because they are all so different and unique.
Bella05
South Africa
31 December 2015