The Cat in the Hat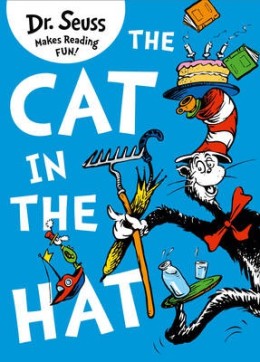 by Dr Seuss
Reading Age: 6+
Interest level: 3+
by Dr Seuss
'The sun did not shine. It was too wet to play...'
So begins this favourite story from classic children's author Dr Seuss. When Sally and her brother are left alone on a rainy day, they think they are in for a dull time - but then the Cat in the Hat steps onto the mat, bringing with him madness and mayhem. Children will love the rhyming text, bold illustrations, and most of all the naughty Cat himself.
Publisher: HarperCollins Children's Books
More like this
HarperCollins Children's Books

With a heart two sizes too small, the Grinch is...
What you thought
I loved this book, the wording, and the pictures! They have stayed with me into adulthood, etched on my brain since I was a little kid! :)
Editor's pick
Claire Farrow
Aberdeen
1 November 2013
love this book and also fox in socks, grinch and cat in hat comes back.
It was a very good book. I loved this book when I was a little girl.
Tahmina Yasmin
London
11 October 2013