Pippi Longstocking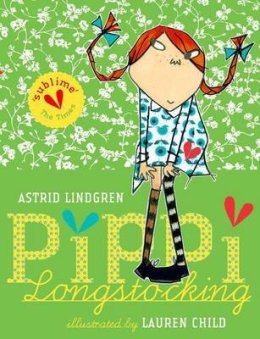 by
Astrid Lindgren
Translated by Tiina Nunnally
Illustrated by Lauren Child
Reading Age: 8+
Interest level: 6+
by
Astrid Lindgren
Translated by Tiina Nunnally
Illustrated by Lauren Child
Follow Pippi Longstocking on her amazing adventures as she moves into Villa Villekulla with a horse, a monkey, and a big suitcase of gold coins, and meets Tommy and Annika who quickly become her best friends. They join her on her amusing escapades – joining the circus, dancing with burglars and celebrating her birthday.
This lovely new edition of a classic has been brought up-to-date with delightful illustrations from Lauren Child and a new translation from Tiina Nunnally. The collection brings together 11 favourite Pippi stories, and will ensure that readers young and old fall in love with this fabulous heroine.
Publisher: Oxford University Press
About the author
More like this
What you thought
Pippi Longstocking finds her own ways of doing stuff. My favourite bit is when Pippi made the robbers dance all night!
Grace
Yorkshire
9 September 2016
I read this book with my mom for bedtime. I love this book and my favourite chapter is when Pippi goes up the tree. I like Pippi and I dressed up liked her to school on 'Book Day'.
roar
Watford
14 July 2015
This is the best book you can imagine! It is funny, strange, wonderful and just brilliant! Recomended to all girls.
Pippi
Maidenhead
1 March 2015