The Jolly Postman or Other People's Letters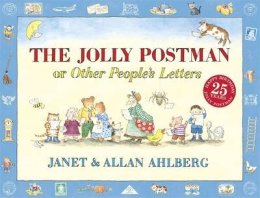 by
Allan Ahlberg
Illustrated by Janet Ahlberg
Reading Age: 6+
Interest level: 5+
by
Allan Ahlberg
Illustrated by Janet Ahlberg
In this much-loved rhyming tale, join the jolliest of postmen on his daily rounds as he delivers letters to the residents of a fairytale town. While the postman is treated to numerous cups of tea, children will be re-introduced to a host of favourite characters, from the great and good such as Cinderella and the Three Bears, to the not so nice Mr Wolf and the Wicked Witch.

As readers find out what the cast are all getting up to, they will delight in discovering the six pull-out pieces of post. Brilliantly designed with lots of little details to spot, this old favourite will be enjoyed time and time again.
Publisher: Penguin
More like this
What you thought
I love this book, this book is needed now in the time of social media. Our children need to know what it's like to get a letter in the mail, as well as reaching out to people in a different way. One of my all time favs!!!!
Christine
Denver, CO
4 October 2015
I like this book because it is a story about writing letters to eachother. And it has a lot of letters to create a story
PrincessAriel
Liverpool
19 January 2015