Not now, Bernard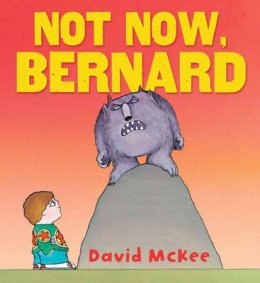 by David McKee
Reading Age: 4+
Interest level: 3+
by David McKee
This is the classic story of Bernard, whose distracted parents fail to notice he has been eaten and replaced by a monster. We follow Bernard as he does his best to attract his mum and dad's attention to the monster in the garden who wants to eat him - only to hear the repeated refrain of 'Not now, Bernard.'
Short, pithy and without a page wasted, this is a wonderful picture book. McKee deals with a sad theme in a clever and funny way, which will resonate with both adults and children.
Publisher: Andersen
More like this
Andersen Press

A colourful board book in which the ever-popular Elmer the...

Andersen

A fable of human conflict, Tusk Tusk deals with a...

Andersen Press

Melric, the King's magician, uses his magic to help everyone...
What you thought
my son was obsessed with this book as a small child, soon to be 21, and his 21st birthday is based around this book... fabulous little story
CAL
LIVERPOOL
29 January 2015
Elwin Emmanuel
Northside primary school
13 November 2013
It tells a fantastic story in a simple but effective way
Chris
London
13 November 2013
A useful guide as to how not to parent. Its kind of funny, kind of scary and a little bit sad. An incredibly effective and yet simple story.
Rachael Smithdale
Putney
10 October 2013
A perennial favourite, what parent hasn't said "not now, Bernard" but beware, there might be a Monster lurking there....!
Lisa Bostock
Brighton
7 October 2013