Hairy Maclary from Donaldson's Dairy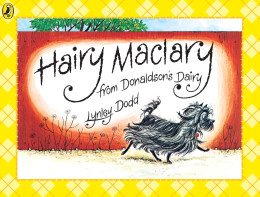 by Lynley Dodd
Reading Age: 6+
Interest level: 2+
by Lynley Dodd
This hilarious rhyming story follows Hairy Maclary from Donaldson's Dairy, as he sets off for a walk in town, followed by a whole host of canine friends. Then they meet the toughest tom cat in town, Scarface Claw...
Hairy Maclary from Donaldson's Dairy is the first in the classic children's series, originally published over 30 years ago. Written and illustrated by New Zealander Lynley Dodd, the book has delighted generations and can be enjoyed time and again by children and adults alike.
Publisher: Puffin
More like this
What you thought
Absolutely fantastic stories my 6yr old grandson Phillip has a whole set looking for more - he knows them all by heart and chuckles when we read them together fantastic!!!
helen adams
swansea
25 April 2014
Love this collection of stories, my husband still has the copies he read as a child. I'm now reading them to my daughter. The quirky names and rhythmic flow of the story keep her entertained.
christina gibsob
tyne & wear
8 November 2013
I love this book because it has very good rhymes and also I love dogs
max
essex
14 October 2013
I love this excellent story