Harry Potter and the Philosopher's Stone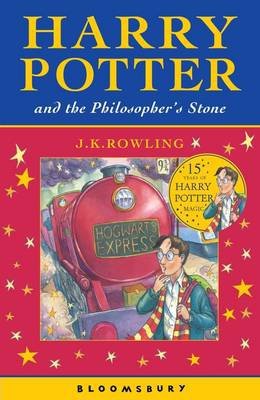 by J K Rowling
Reading Age: 10+
Interest level: 8-13
by J K Rowling
After the misery of life with his ghastly aunt and uncle, Harry Potter is delighted to have the chance to embark on an exciting new life at the Hogwart's School of Wizardry and Witchcraft. Learning about magic and making new friends, he has the chance to use his new-found wizarding skills to unravel some of the mysteries of his own past - and to uncover some shocking secrets about his teachers.
This brilliantly inventive, award-winning adventure story is the first in the phenomenally successful Harry Potter series. With shades of Diana Wynne Jones, Enid Blyton, Roald Dahl and Jill Murphy's The Worst Witch, this contemporary classic of children's literature is beloved by children and adults alike.
Publisher: Bloomsbury Children's Books
More like this
Bloomsbury

There is much heartache for Harry as he tries to...

Bloomsbury

Each of these five tales contains a life lesson for...
What you thought
Aimee
London
12 June 2017
So look good it's for all ages. The only thing wrong with it is you can't put it down
Rumaisa
England
23 April 2017
Harry Potter is a fantastic, magical adventure full of surprises I also love the Dursleys because they are very funny! Well done J.K Rowling it's brilliant!
Oscar
Wickwar
6 March 2017
Well Done! J.K Rowling another amazing book. I'm on no.3 Harry Potter and the Prisoner of Azkaban at the moment great books!
Sam
England
13 December 2016
I loved as it brings a series to life, I love how Harry defeats Uncle Vernon and Aunt Petunia's hate of him his friends, Ron and Hermoine are comical and Draco Maldfoy just an idiot. Snape is annoying and hateful but in the second book it is found out that. ;)
Leah
England
8 December 2016