The Kite Rider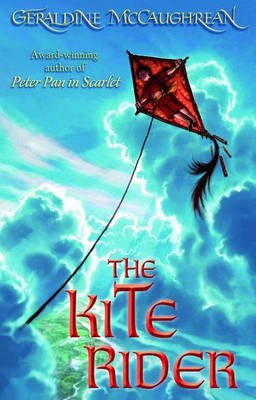 by Geraldine McCaughrean
Reading Age: 11+
Interest level: 11+
by Geraldine McCaughrean
Haoyou's father is dead - his spirit lives among the clouds above Ancient China. Feeling powerless when the man responsible for his father's death demands to marry his mother, Haoyou determines to follow in his father's footsteps and joins a travelling circus. The Jade Circus offers him the chance to escape his enemies and perform: strapped to a kite, he takes to the skies, and soon amazes audiences across the land - including the infamous Kublai Khan himself. But is the circus master leading him into even greater danger?
Set in thirteenth century China, this is an outstanding novel from critically-acclaimed author Geraldine McCaughrean. A fascinating and exciting tale exploring greed, loyalty and friendship, it is a highly original story that will capture readers' imaginations.
Publisher: Oxford University Press
About the author
More like this
What you thought
Nice book! Not worth a Cry Reads, but I definitely recommend it, I loved the personalities of each character, almost every character's personality really added to the book and gave it a nice storyline. I would put it on Cry Reads, but it wasn't really the type of book I was looking for it. Good book though!
Cryaotic
Florida
6 December 2016
This book is simply amazing. It talks about a little boy called Haoyou and how he becomes a kite rider in a circus. The story takes set in the 13th century china. It is awesome, hope you read it too.
Random Guy
Somewhere
11 February 2016