Angus, Thongs and Full-Frontal Snogging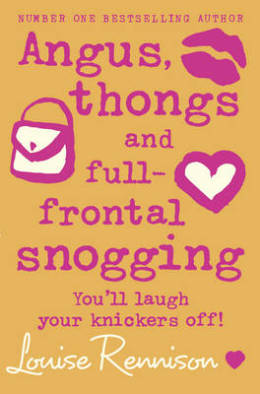 by Louise Rennison
Reading Age: 11+
Interest level: 11+
Book one in the Georgia Nicholson series
by Louise Rennison
Welcome to the world of Georgia Nicolson - an angst-ridden teenage girl who keeps a diary to record the rollercoaster of emotions and experiences she faces every day. Parents, boyfriends, bullies and hair-bleaching disasters are all part of Georgia's eventful life, which she relates with tremendous verve, wit and humour.
This riotous novel is the first in a series of hilarous Georgia Nicholson stories from bestselling author Louise Rennison, which are beloved by teenage girls across the world.
Publisher: HarperCollins
More like this
What you thought
A really good, fun read, but also something that spoke to me on a really personal level, and helped me work out a lot of things in my life, and understand lots of the changes the I (and my body!) are going through. Thank you Louise Rennison! xxxx
Ash
Cambridge
29 December 2016
this is an awesome book. its absolutely hilarious and i actually laughed out loud when i read it!!! it is the first book in a series of 8.
Unicorns Dancing on Rainbows!!
surrey
25 June 2015
It's a really good book I would recommend this to people at the age of 12+
Yasmin
The grange school
27 January 2015
Amazing! Love the film and book
lucie
angmering
18 October 2013
THE BEST BOOK EVER, this book is by far my favorite! So glad Georgia found a man that will love her forever. All thanks to Angus. YOU HAVE TO READ THIS BOOK TO FIND OUT GEORGIAS FABULOUS JOURNEY!!! XX
sophie locke
willenhall
17 October 2013