Diary of a Wimpy Kid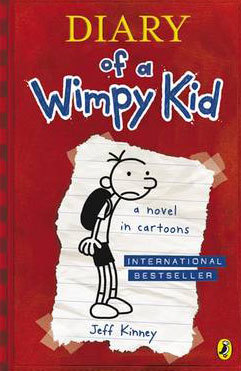 by Jeff Kinney
Reading Age: 8+
Interest level: 8+
by Jeff Kinney
Greg Heffley is a normal American kid, albeit one with a habit of getting into (and out of) trouble. His diary, complete with hilarious cartoons, records a year in his life and follows his relationships with his nerdy best friend Rowley, annoying brothers Roderick and Manny and long-suffering parents.

Greg is constantly trying to boost his popularity but his attempts at bodybuilding, cartooning and money-making - all recounted in the same deadpan tone - inevitably fall flat.

This laugh-out-loud book was a New York Times bestseller and has had enormous success with children on both sides of the Atlantic. The engaging illustrated diary format will ensure it continues to have huge appeal for reluctant readers and younger children who are gaining confidence in their reading - and it will undoubtedly raise a smile from their parents too!
Publisher: Puffin
About the author
More like this
Puffin

Wimpy Kid Greg Heffley returns with further entries from his...

Puffin

Greg's idea of a perfect summer holiday is to sit...
What you thought
It was brilliant I would recommend this book to anyone 7-8 years old!😊😀😜😝
Oscar
Norfolk
20 May 2017
angila
london
9 December 2016
I Love it but it copy from the famous comic, Wimpy Kids.
This book is great for all ages including me, this book is one of the best books in my opinion because it has a nice dialogue, it's funny and after you have read this book you have to read the next book.
Brandon
Barby
19 May 2016
I loveeeee diary of a wimpy kid it is soooooo funny .
#prettylove.GIRL
Barnet
23 April 2016