The Story of Tracy Beaker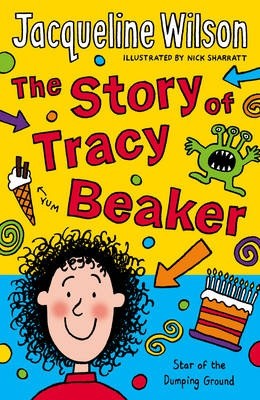 by
Jacqueline Wilson
Illustrated by Nick Sharratt
Reading Age: 8+
Interest level: 8+
by
Jacqueline Wilson
Illustrated by Nick Sharratt
Tracy Beaker is a funny, imaginative and articulate ten-year-old girl, but she can also be angry, impulsive and a bit violent too. Tracy lives in a children's home but constantly hopes that her absent, glamorous mum will come and take her away.
One day Cam visits the home, to write a piece on the children. Tracy, being something of a writer herself, resolves to help out. The two form a bond and Tracy begins to wonder if Cam might represent a way out of the home for good.
Tracy's story is told as a series of diary entries, liberally illustrated with doodles and drawings from the pen of Nick Sharratt. She is an endearing narrator and her bouts of temper serve only to make her seem more believable. Both funny and touching by turns, it is easy to see why Tracy's story has become a modern-day classic.
Publisher: Random House
About the authors
More like this
What you thought
It is very interesting to read
I like this book because tracy beaker is hetty feather when she was young and how she went into care so this is a good book
Rosie
Bb12ue
3 September 2016
at the beginning I thought her mum would come and I felt sad when she did not come
kitty kat 4 life
scotland
28 June 2016
I'm going to give the book 5 because I love Tracy beaker and because she is a very good and lovely author and she wrote the most beautiful story's ever.
#prettylove.GIRL
Barnet
23 April 2016