The Boy in the Striped Pyjamas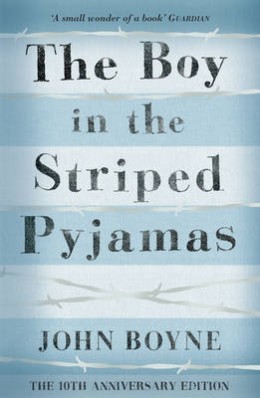 by John Boyne
Reading Age: 11+
Interest level: 12+
by John Boyne
Bruno has a happy life in Berlin, so is shocked when he learns his family are moving to 'Out-With'. One day Bruno is out exploring the bleak surroundings of his new home and befriends a boy of his own age: Shmuel, who lives on the other side of a fence which surrounds a large camp in the grounds.
Shmuel and the other inmates of the camp are all under-nourished and wear a uniform of striped pyjamas. Bruno is not sure why they are there or why he is forbidden to mix with them but the boys friendship grows.
Their friendship sustains them both but ultimately ends in tragedy when Bruno crawls underneath the fence to help Shmuel search for his missing father. Suitable for readers older than the book's nine-year-old protagonist, the story serves as a compelling and shocking symbol of the futility and horror of the holocaust.
Publisher: Random House
Extract
The Boy in the Striped Pyjamas by John Boyne
'Hello,' said Bruno.
'Hello,' said the boy.
The boy was smaller than Bruno and was sitting on the ground with a forlorn expression. He wore the same striped pyjamas that all the other people on that side of the fence wore, and a striped cloth cap on his head. He wasn't wearing any shoes or socks and his feet were rather dirty. On his arm he wore an armband with a star on it.
When Bruno first approached the boy, he was sitting cross-legged on the ground, staring at the dust beneath him. However, after a moment he looked up and Bruno saw his face. It was quite a strange face too. His skin was almost the colour of grey, but not quite like any grey that Bruno had ever seen before. He had very large eyes and they were the colour of caramel sweets; the whites were very white, and when the boy looked at him all Bruno could see was an enormous pair of sad eyes staring back.
About the author
More like this
What you thought
The best Book I ever read, amazing, awesome...
Someone
London
2 January 2017
It's a great book and I suggest many people to read it!
This is such a interesting book
it was a very entertaining book, but it did have quite a lot of ups and downs that made me want to stop reading but i didn't, i quite enjoyed it. Good Book, thumbs up.
a guy on the interwebs
not available
23 July 2016