Handa's Surprise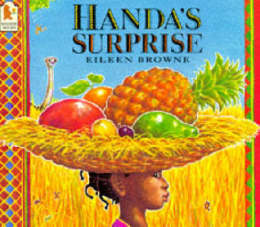 by Eileen Browne
Reading Age: 5+
Interest level: 3+
by Eileen Browne
Handa fills her basket with seven delicious fruits - one for each of her friends. But as she walks, the basket balanced on her head, she is unaware of the crafty animals intent on stealing her fruits: a monkey grabs the banana, an ostrich the guava, a zebra the orange, an elephant the mango, a giraffe the pineapple, an antelope the avocado and a parrot the passionfruit.
Finally, a goat charges into a tangerine tree, filling Handa's basket with its fruit. When she reaches her friend Akeyo, Handa is astonished to find her basket full of tangerines, but Akeyo is delighted as tangerines are her favourite fruit!
Glorious images of an African village convey the sights, smells and colours of the landscape, its animals and its food in a story told as much through pictures as through words.
Publisher: Walker Books
More like this
Walker Books

When three baby owls wake up to find their mother...

Puffin

Eric Carle's The Very Hungry Caterpillar deserves its reputation as...
What you thought
I loved this book as a child my mom used to read it to me all the time.
Lucy
USA
15 September 2016
I thought the story could have different objects in it like veg, toys or toothbrushes
Gabriella
16 January 2016
Haleemah
Bristol
18 November 2015
i think this book is so ideal especialy for african teachers
Hanan b
uganda
22 October 2015