Mortal Engines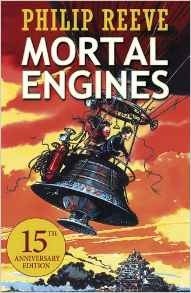 by Philip Reeve
Reading Age: 11+
Interest level: 11+
by Philip Reeve
London is on the move again: the traction city trawls the world on wheels, capturing and eating smaller towns. But when he is thrown off the city by his childhood hero Valentine, young hero Tom joins forces with the mysterious Hester, and is soon forced to reassess life as he knows it.
Set in a captivating futuristic landscape, this hugely imaginative story is a vivid blend of action, romance, mystery, crime and horror. Packed full of colourful characters and locations, it is a whirlwind adventure that challenges both Tom and the reader to rexamine their attitudes and preconceptions.
Publisher: Scholastic
About the author
More like this
What you thought
I thoroughly enjoyed this book from start to finish, as soon as I opened the cover I was hooked and couldn't wait to turn the page. This book contains interesting characters and heaps of description to make you fully immersed. I think this is the best book I've read as a 14 year old, and I can't wait to start the next one. Good job Philip Reeve.
Thomas
South Shields
30 April 2015