Arranging an author visit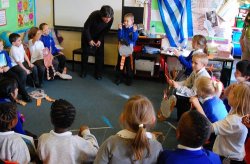 Bringing a writer, poet, illustrator or storyteller into your school is a great way to inspire children and bring reading to life. Here are some simple steps to planning your event:
Planning:
Identify your aims. Do you want to increase enthusiasm for reading, develop writing skills, focus on a particular genre, or make your visit the focal point of a celebration of reading such as Children's Book Week?
Think about the format. Would you like your writer to read their work for the whole school, answer questions, or run a workshop with a smaller group?
Find your writer. You may have a wish-list of writers in mind, but be aware that those who are well known may be booked up in advance: make contact via their publisher to find out. Alternatively, contact one of the organisations below to find a writer with experience of working in school settings, or talk to colleagues or staff in your local bookshop or library for recommendations of writers in your area. Take a look at the Society of Authors' advice on paying authors for their visits.


Preparations:
Practical arrangements. Make sure your writer has all the information they will need well in advance, such as a map, useful contact details, start/finish times, information about your school, and transport information.
Prepare your pupils. Read and discuss your writer's books and build up excitement around the visit. Make sure you have your writer's books available in the library, and invite children to design posters or book covers to create displays.
Books to buy. You may want to organise books for children to purchase and have signed on the day. Contact your local bookshop for help with this, and make sure you provide parents with information in advance.


On the day:
Meet and Greet. Make sure you are available to greet your writer when they arrive. Introduce them around the staff room and ensure you factor in time for a cup of tea or coffee.


After the event:
Follow up with the class. Talk about the visit and what children enjoyed most. You may like to write individual or class letters to thank your writer.
Share with your colleagues. Discuss your experiences. What might you do differently next time? Who might you like to invite to visit in future?
Useful contacts
The following organisations and agencies offer advice about finding a writer or make bookings on your behalf:

Apples & Snakes
Tel: 0845 521 3460
Email: maria@applesandsnakes.org
www.applesandsnakes.org

Devon Arts in Schools Initiative (DAISI)
Exeter
Tel: 01392 385214
Email: admin@daisi.org.uk
www.daisi.org.uk

Kernow Education Arts Partnership
Cornwall
Email: helen.reynolds@keap.org.uk
www.keap.org.uk

National Association of Writers in
Education (NAWE)
Tel/Fax: 01653 618429
Email: clare@nawe.co.uk
www.nawe.co.uk

National Centre for Language & Literacy
Tel: 0118 378 8820
Email: ncll@reading.ac.uk
www.ncll.org.uk

The Poetry Society
Based in London - national
Tel: 020 7420 9894
Email: education@poetrysociety.org.uk
www.poetrysociety.org.uk

New Writing North
Based in Newcastle upon Tyne
Tel: 0191 222 1332
Email: office@newwritingnorth.com
www.newwritingnorth.com

New Writing South
Based in Brighton
Tel: 01273 735353
Email: education@newwritingsouth.com
www.newwritingsouth.com

Artscape
www.artscape.org.uk

Speaking of Books
London-based agency that handles events
and visits throughout the UK and abroad for
authors and illustrators
Tel: 0208 858 6616
Email: jan@speakingofbooks.co.uk

The Windows Project
Based in Liverpool
Tel: 0151 709 3688
Email: windowsproject@btinternet.com
www.windowsproject.co.uk

Write On! - Adventures in Writing
Agency running writer in school projects
West Midlands
Tel: 0121 246 2770

For a specific author, try contacting the publisher in the first instance - bear in mind that to arrange a visit from a very well-known writer you will need to plan well in advance.
Many locally-based storytellers, writers and illustrators have considerable experience of working in schools and bring as much 'magic' to a visit as the star authors.
Download this page as a printable resource
---
Read children's author Philip Ardagh's poetic account of a bad school visit in his blog post 'When author school visits turn bad' for tips on how not to arrange an author visit:
St Judas Welcomes Author Philip Arder
Welcome to St Judas.
Because of a mix-up in timetabling
Miss Horace who was supposed to be looking after you today
has had to go on a factory field-trip
with gifted and talented and the two classes
of students who've actually read your book.
We've had to put you with a younger group
who, like me I must confess, have never heard of you,
but we did look you up on Wikipedia
and see that you like cats.
...continue reading on the blog post