Additional support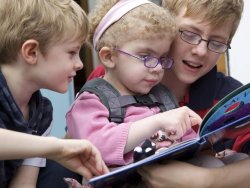 Together, we can use the power of stories and reading to unlock the potential of the UK's most disadvantaged children.
Targeted programmes
We believe that with our targeted programmes designed to highlight the importance of reading for pleasure, we have a positive effect on the lives of children from diverse educational, social or economic backgrounds.
Dual language books and guidance
Book Trust provides reading guidance in 29 languages for Bookstart families and in 26 languages for families with Primary school aged children. We also supply early years books in dual languages as part of the Bookstart programme.
Additional needs
All our programmes include books for children with additional needs so in addition to the programmes listed below we have SEN elements to all these programmes:


Bookbuzz provides a selection of the titles in braille, large print books and accessible books.
The School Library Pack is a free book pack for all secondary schools in England and has a special school pack option
Letterbox Club focuses on improving the educational outlook for children aged 5-13 in foster families by providing them with a parcel of books, maths activities and educational materials every month for six months.
The Ant Club is a programme offered to selected primary schools providing free resources for Reception and Year 1 classes. All the free materials are designed to inspire, boost skills, build confidence and help children get carried away with words.
The Beyond Booked Up programme is aimed at pupils in both Year 7 and 8 and includes a range of accessible resources designed to help develop speaking, listening, writing and reading skills for 11- to 13-year-olds. All eligible schools will have been invited to take part and sent login details for the Beyond Booked Up website.
Bookmark
For anyone seeking information, books or advice relating to disability and children's books, including parents, young people, teachers, early years and health professionals, librarians, publishers, writers, illustrators and researchers. Includes What's the Story? - a resource to support the development of positive attitudes towards disability, both in the classroom and in the wider community.
Bookshine packs are available for deaf babies and toddlers. Children are entitled to this pack in addition to the two standard Bookstart packs.
Booktouch packs are available for blind or partially sighted babies and toddlers. Children are entitled to this pack in addition to the two standard Bookstart packs.
Making a difference
BookTrust supports children and families to experience the joy of reading and its associated benefits. Find out more about the impact of our programmes and activities.
Bookstart Corner
Bookstart Corner supports children's centres across England to help families that need more support to develop a love of stories, books and rhymes. Aimed at families with children aged 12-24 months, but with an additional pack for eligible 2-year-olds, the programme allows centres to offer intensive support for parents and carers to build confidence in reading for pleasure with their children.