BBC National Short Story Award 2016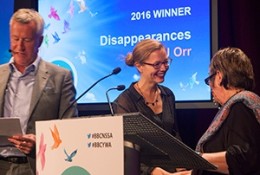 Latest update
'Submissions for the 2017 Award are now closed'
The London-born writer's 'Disappearances', was described by judge Kei Miller as 'a near perfect example of how the short story works'.
'Disappearances' was inspired by Orr watching a solitary man in a café in Argentina whilst travelling. Surfaces and what lies beneath were a starting point for this story of a retired plastic surgeon who develops a relationship with a local waitress and is compelled to visit the same café every day.
Surprised by his own desire to create a new identity, his plans are thwarted when two women from his past disrupt his new world. Caught off guard, the tension between the life he led and this desire to create a new identity is a pivotal moment
Orr was presented with the prize of £15,000 this evening (Tuesday 4 October) by the 2016 Chair of Judges Dame Jenni Murray at a ceremony held in the BBC's Radio Theatre in London. The news was announced live on BBC Radio 4's Front Row, during a special programme celebrating the short story.
Claire-Louise Bennett, also a debut writer with her first collection recently published, was selected as the runner-up and received £3,000 for her story 'Morning, Noon & Night'. The three other shortlisted authors, Lavinia Greenlaw, Hilary Mantel and Tahmima Anam, received £500.
Di Speirs, Books Editor at BBC Radio 4 and longstanding judge of the Award commented:
In a year when the shortlist was supremely well balanced and the judges initially quite divided about a winner, our meeting was full of insight, debate, discussion and courtesy; by its conclusion we were all of a mind. I'm delighted, as are we all, to be honouring as winner, and as runner-up, both the debut writers on the list, both writers who have dedicated themselves to the short story, honing their craft, experimenting with form and finding their unique voices.

K J Orr's precision and clarity, her ability to expose a life in a line and to induce sympathy and disdain, linger long after reading the final paragraph.
Readers can listen to the BBC Radio 4 broadcasts of the shortlisted stories for up to 30 days after their first airing.
The five shortlisted stories are published in an anthology, BBC National Short Story Award 2016. They are introduced by Dame Jenni Murray and published by Comma Press. They are available via the Comma Press website and all good bookshops, and as an eBook.
Judges
About the BBC National Short Story Award 2016
For updates on the Award follow #bbcnssa on Twitter.
Previous winners
2016 Orr 'Disappearances'; runner-up Claire-Louise Bennet 'Morning, Noon & Night'
2015 Jonathan Buckley 'Briar Road'; runner-up Mark Haddon 'Bunny'
2014 Lionel Shriver 'Kilifi Creek'; runner-up Zadie Smith 'Miss Adele Amidst the Corsets'
2013 Sarah Hall 'Mrs Fox'; runner-up Lucy Wood 'Notes from the House Spirits'
2012 Miroslav Penkov 'East of the West'; runner-up Henrietta Rose-Innes 'Sanctuary'
2011 D W Wilson 'The Dead Roads'; runner-up Jon McGregor 'Wires'
2010 David Constantine 'Tea at the Midland'; runner-up Jon McGregor 'If It Keeps On Raining'
2009 Kate Clanchy 'The Not-Dead and the Saved'; runner-up Sara Maitland 'Moss Witch
2008 Clare Wigfall 'The Numbers'; runner-up Jane Gardam 'The People on Privilege Hill'
2007 Julian Gough 'The Orphan and the Mob'; runner-up David Almond 'Slog's Dad'
2006 James Lasdun 'An Anxious Man'; runner-up Michel Faber 'The Safehouse'
Please go to bbc.co.uk/nssa for more information on the BBC National Short Story Award.
Terms and conditions for the 2017 Award are available from 26 January 2017, until the deadline of 6 March 2017.