Roald Dahl Funny Prize 2012 winners announced!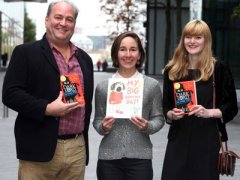 6 November 2012
Dark Lord eliminates comic competition by seizing the prize for the funniest book for children aged seven to fourteen, whilst a picture book about toddler tantrums stomps to victory in the six and under category.

A book about a dark lord who unwillingly inhabits the body of a chubby teenager has cast its evil spell over this year's Roald Dahl Funny Prize judges. Dark Lord: Teenage Years by Brighton-based games developer Jamie Thomson, conquered competition from books by David Walliams and Olympics Ceremony scriptwriter and award-winning author Frank Cottrell Boyce to seize the winners prize for the funniest book for children aged seven to fourteen. The book, which centres on the trials of Dirk Lloyd in his bid to be taken seriously as an evil force on Earth and to return home to his reign of terror, is the first of a new series by Thomson and the first book for illustration undergraduate Freya Hartas.

Equally terrifying is a book about a toddler terrorising her mother and everybody around her with her tantrums. My Big Shouting Day by Cambridge based author/illustrator Rebecca Patterson has stomped its way to victory in the six and under category, beating award-winning illustrators, including Oliver Jeffers. Parents up and down the country will find much to laugh (and perhaps cry) about in this book which finds its humour in the terrible twos. The book follows Bella, a toddler who is having a particularly bad day, finding something to shout about in every activity.

Both winners received £2,500, which was presented at an awards ceremony at the Unicorn Theatre in London today. This year is the fifth year of the Prize which celebrates the funniest books for children.

Broadcaster and Roald Dahl Funny Prize judge Mel Giedroyc commented:
It's been a sheer honour and joy for me to be on the judging panel for the 2012 Roald Dahl Funny Prize. Dark Lord: Teenage Years is a worthy winner - it's funny-clever as well as funny-silly, which in my book is the best combination. I say "in my book", I don't mean that I had a book in the shortlist. That would be very unfair, to be judging books, one of which I'd actually written. Let me just make that clear, that did not happen. Long live comedy and funny books - they give you crows' feet but they reassure you that life is worth living!!'
This year's Prize saw schools across the country involved in the judging process. Over 500 pupils from across the UK were selected to read the shortlisted titles, discuss with their classmates, and pick their favourite funny book in the relevant category for their age. Their votes were combined with the votes of the adult judging panel to find the two winners for 2012. Classes from Hawkes Farm Primary School and Hitherfield Primary attended the awards ceremony, with Hawkes Farm pupils giving a special performance based on scenes from Michael Rosen's biography Fantastic Mr Dahl and Hitherfield pupils sharing their thoughts on the shortlist through a specially-created film:

About this year's award, Michael Rosen commented:
I'm very proud of the fact that this is the fifth year of the Roald Dahl Funny Prize, an award I cooked up when I was Children's Laureate in order to celebrate books that make children laugh. That's five years worth of books which are written with fun and enjoyment in mind. We know that reading for pleasure is an engine for attainment and achievement in all walks of life. Children, parents, teachers, librarians and all concerned with reading can find a rich vein of books for all ages in the back lists of this Prize, and this year's shortlists and winners are engaging, fascinating and above all, very funny.