Families embrace digital technology but children prefer print books to e-books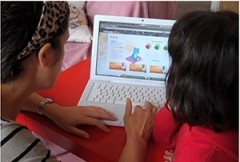 10 February 2016
When BookTrust asked parents what format their child prefers for reading, print books came top for both reading for pleasure and reading for education.

The findings were revealed in our recent research The Digital Reading Habits of Children, February 2016, conducted in association with the Open University. It was designed specifically to explore young children's use of digital media and e-books, with a particular focus on children's reading for pleasure and shared reading with their parents at home.

It investigates parental reports of practices and the associated perceptions of these practices by parents of 0-8 year old children. In total 1,511 parents (886 mothers and 625 fathers) of UK children (825 boys and 685 girls) aged between 0-8 years completed the survey.

The key findings relating to digital reading habits include:
Print books are the preferred reading format for children.
Even highly digitised households use print books for children's reading.
Reasons for preferring print books over e-books for reading for pleasure include that the child likes turning pages, owning their own book and choosing books from the library
Most parents have concerns over children using interactive e-books, with only 8% having no concerns.
Parents want advice about interactive e-books

BookTrust Chief Executive, Diana Gerald said:
BookTrust is an unrivalled fan of printed books, but we must all embrace the digital world as children are growing up using many different platforms for their reading. What's fantastic is that even reluctant readers are probably reading more now than ever if you take account of e-books, social media, gaming narrative, texting, Twitter and online forums.


However, some parents think digital reading has no place in shared family life. They think they might contaminate children's' reading experiences if they endorse digital books, but this need not be the case. When used thoughtfully, in partnership with printed books, digital books can enhance and encourage children's reading for pleasure and can encourage further reading with print books.