Jenny Erpenbeck's The End of Days wins Independent Foreign Fiction Prize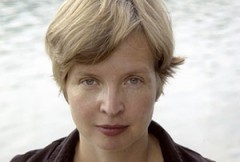 27 May 2015
The novel is the first German book to win the Independent Foreign Fiction Prize, which is managed by Book Trust, since 2002
Erpenbeck was previously longlisted in 2001 for her novellas The Old Child and The Book of Words and shortlisted in 2011 for Visitation.
The End of Days is a story of the twentieth-century traced through the various possible lives of one woman. Moving from a small Galician town at the turn of the century, through pre-war Vienna and Stalin's Moscow to present-day Berlin. Judge Antonia Lloyd Jones described the tale as 'a work of genius'.
Judge Boyd Tonkin said of the winner:

This is a novel to enjoy, to cherish, and to revisit many times. Into its brief span Jenny Erpenbeck packs a century of upheaval, always rooted in the chances and choices of one woman's life. It is both written and translated with an almost uncanny beauty, which grows not out of historical abstractions but from the shocks and hopes of everyday life, and from our common quest for peace, home and love. Re-reading this jewel of a book, I came to feel as if both W. G. Sebald and Virginia Woolf would recognise a kindred spirit here.
Erpenbeck and translator, Susan Bernofsky were presented with their shared £10,000 Prize at an award ceremony supported by Champagne Taittinger at the Royal Institute of British Architects.
Book Trust has managed the Prize since 2001 and understands how profound and important literary translations and reading can be for people. The previous night shortlisted author Erwin Mortier said: 'Reading saved my life, helped me through a difficult period. I was thrown out of a lot of schools'.
Diana Gerald, Chief Executive at Book Trust, says:

Book Trust is proud to manage the Independent Foreign Fiction Prize, which celebrates the world's finest fiction and supports our wider commitment to bringing different voices from around the world to both adults and children and alike.
This year the judges also wanted to give a special mention to In the Beginning Was the Sea, the debut novel by Colombian writer Tomás González, translated by Frank Wynne. Based on a true story, the book gives a dramatic and searingly ironic account of the disastrous encounter of the imagined life with reality. Helen Oyeyemi described the book as 'quietly profound, finely wrought and containing a wave-like motion within its prose'.
Find out more about the Independent Foreign Fiction Prize
The Iraqi Christ wins The Independent Foreign Fiction Prize 2014