Interview with champion of school libraries, librarians and Chair of IBBY - Pam Dix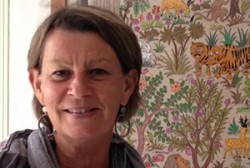 This week I talk to Pam Dix about Pam's life-long love of school libraries and why now more than ever we need to keep up the fight for a Library and librarian in every school.
'Sometimes I'm asked to recommend some good literacy projects for the school to use and I always recommend the best one I know - a library with a librarian!' Pam Dix - Chair of IBBY
This is my final interview before my farewell blog as writer in Residence for Book Trust and it's fitting that it's dedicated to a woman who has for so long been an ambassador for global diversity in children's books and publishing. For telling stories about the world, and for ensuring that those stories reach children for whom to find their place of belonging in books has a transformational effect.
I know that there are school librarians up and down the country right now researching and sourcing new books for the autumn term to offer to the children they know and this blog post is also dedicated to all of the wonderful specialist school librarians who are the backbone of our children's education.
Brief History
Grew up in Wales in the 1950/60s
Attended Royal Holloway University - Studying English Literature
Roehampton MA - Studying Children's literature
Travelled in India - Mid 70s
Medical librarian 1975 -78 - Guys Hospital and Imperial Cancer Research Fund
Inner London Education Authority -1978 - 1990 (Central Support Team, School librarian at Acland Burghley, Centre for Learning Resources)
Islington 1990 - 2013 (Hackney and Islington Teachers centres, School library service manager and library adviser Islington)
London Metropolitan University 2004 - present Lecturing in Educational Studies - Children's literature in Education (MA) and Children's literature in multicultural classrooms (BA))
Akili charitable Trust started 2006
Chair of IBBY 2014 - present
I have known about Pam Dix's work in many periods of her life but have not until recently had the opportunity to talk to her about her extraordinary career. Following the Children's Laureate announcement when Chris Riddell immediately championed Librarians and school Librarians, I invited Pam to my home and we shared stories about connections between our work past and present, the political climate and education, the increase in child poverty and how this limits opportunities for children to succeed. We talked of the battles that had been fought and are still to be fought in order that the right books find their way into the hands of all our children.
I photographed Pam against a backdrop of Kantha art. It seemed fitting to me because a love of story, community, diaspora journeys, equality and justice which are at the heart of Pam Dix life and work are also reflected in this backdrop. Kantha art is the beautiful folk art of India which is often created in villages by all members of a family.
It can take years to complete a single communal panel like this one of a jungle that I bought from a co-operative in India. But the joy of this work is in the wish to tell a story which is as much about the participation of community as it is about the enjoyment of the final work. Involving children from all over the world in the active participatory process of reading has been Pam's life's work. In fact it turns out that India was the place where the thread of her work that led her becoming a School Librarian for ILEA and now, Chair of IBBY, began in India.
'After University in the mid 1970's I lived in Nepal for two years. I was struck by the openness of how people were in India. I would sit on a train and people would start having a deep conversation about Shakespeare with me. I loved that sharing of stories and literature and didn't see it when I came back here. I was interested to find a place where some of this feeling of sharing in the adventure of reading existed - that is why I became a school librarian,' Pam explained.
As part of our conversation I unravelled my patchwork quilt and it was while sitting around what I have come to think of as my 'story hearth' that we shared an hour of wonderful conversation. It began with Pam talking about her story archive at Islington Education Library which was brim full of objects that storytellers used to take into schools to spread a love of reading, storytelling and creative writing.
My patchwork quilt and the 'story archive' resource library.
'I think it's time for this work to be happening again - to stop focusing so heavily on 'literacy' alone and for artists, teachers and librarians to bring children back in contact with the motivational impetus to read - to engage them emotionally. ' Pam commented.
Some Quotes from The Hearth and heart
These quotes are gems for anyone interested Children's Publishing and the vital role of the school librarian in ensuring that books are placed in children's hands.
'My initial work was in a medical library and that taught me some brilliant research skills. The Library was for The Imperial Cancer Research Fund. It was an excellent lesson in teaching me the need for the Librarian to share information and to understand the importance of research in making life saving decisions and also in basic planning of projects.'
'I brought some of this idea of a solid research base to my work in ILEA. That was an amazing time to live through. ILEA was the largest single employer of Librarians in the country. We were strong and funded. We looked for books for children to find themselves in. We talked to Publishers about what children want and need and they sought us out.'
'I remember at Acland Burghley School in North London a child from Nepal opening a book and being so delighted - saying ' That Is my God' and it made me think profoundly about how children think of themselves, how others see them and how this is reflected in the stories available to them.'
'We did extraordinary work at that time to make sure that books were inclusive of race, gender and disability and had principles of social equality. It was a revolutionary time. We Librarians had buying power and publishers sought us out. We used to spend a significant amount of time talking to publishers. I spoke to one publisher, Franklin Watts about the need to reflect both boys and girls in non-fiction texts as well as discussing the representation of diversity, which at that time meant black or Asian children.
We were very involved with the ILEA Gay and Lesbian project but this was the time when Margaret Thatcher was moving in on the GLC and the willingness to take risks was diminished. The wonderful resource guide published by some of my colleagues was pulped and we were several times ordered by County Hall to put specific books in a taxi and send them to County Hall because they were deemed to be dealing with controversial issues. It seems funny now, but it also shows how seriously connected the Education Department was to the work of school librarians and how important they deemed us to be.'
'Since then we see swings back and forth in Education Policies without giving attention to the evidence of specialists. This has meant that we have seen a see-saw journey not founded on research. In a medical setting, you would never move forward without paying attention to the research that had come before. Education policy makers all seem to want to place their stamp anew and do not refer to previous work about equality, social injustice and inclusion or even literacy. It's like reading tea leaves. School Libraries and school library services when they are run by Educational Departments are really accountable to the education agenda. If you are saying that books are good for children, you need to be looking to the people who have the real evidence of how school libraries are working and can work - those specialists are school librarians.'
'Sometimes I'm asked to recommend some good literacy projects for the school to use and I always recommend the best one I know - a library! If you had to choose I would always say buy a Librarian, not a mini bus!' (This refers to a specific school that I was sent into by the ILEA to convince them that they needed to use their funding for a librarian and not a minibus which was their plan).'
'It was with a great sense of sadness to me that when I finished working in school libraries they were in a more fragile state, after all the work and energy that went into building the service. I put that down to focusing too closely on this narrow thing called 'literacy' that gets so much funding rather than focusing on equality of access and opportunity for all children to be able to read stories where they have a sense of belonging.'
There can be wonderful books, but a book is a thing and without being properly resourced or championed they can just sit on a shelf and never be discovered.
'To find the right book a child needs a knowledge of self and a feeling of belonging in the world. Children need to find the right book for them and this can be hard without the help of someone who knows about books, a teacher or librarian, and when they have read the book they need someone to talk about the book to and all this contributes to their emotional development. I believe in young people and their capacity to change the world.'
'I can never meet a person without recommending a book. I have never been able to stop putting books in people's hands. It's what I do.
IBBY UK has been working on the Silent Book Project placing international wordless picture books in the library for refugee children at Lampedusa in Italy.
The difficulty we face is getting into the refugee camps to get the books into the hands of the young refugees. For children who have lost so much these stories will be a life line. This project has made me think about children in detention centres in the UK - what are we doing to support them and this is a project that I would like to pick up and do some work on. IBBY is a network of 80 member countries set up after World War II to promote children's publishing and stories internationally. Never has connections between our members been more important as we work in areas of crisis such as Palestine and Afghanistan making sure that children living in conflict are not deprived of stories that can help them live and move forward. Through IBBY we can also make sure that wonderful writers from around the world are published and translated in English and that their vision of the world is seen by children connected to a wide diaspora. We miss out on so much if we don't have access to stories from a global perspective. This is as pertinent for many of our children here who don't see themselves or their lives represented in books.'
As well as my work at IBBY I run the AKILI Trust - a Kenyan charity which is about developing school libraries in Kenya. I a struck that many of the problems we face in setting up these libraries are the same as here in Britain - head teacher commitment being a key to a successful library. It's no good simply publishing books, we need to be able to make the experience of reading them meaningful to the children who read them. So there is no use sending over a lot of books that have nothing that the children can identify with. What we do is we consult with the community and ask what kind of books they would like and what kind of activities they would like to do around the books. If none of those books in the library have people represented who reflect their readers you are shutting people out of the world of the books.
Essentially these are the same issues that we deal with here in making sure that the books we offer children reflect the complexity of our society. From the experience of reading we fund places for children through school and then through university. We have recently expanded the programme to all the schools within the two communities we are based in'.
'I have always tried to set up organisations and networks beyond my own individual work, and was a founder member of both the School Libraries Group and of ASCEL - The Association of Senior Children's and School Librarians. Through networks we are stronger.'
…………………………………………………………………………………………………………………………………………………………….………………….………………….………………….………………….
A few days after our talk I found a book in the post and a note….'I think you will love this book - it should be much better known.'
The book was The Good Braider by Terry Farish (Published by Skyscape in the USA.) As it is not published as yet in Britain I doubt if I would have found it without Pam's recommendation. Pam was right - the book spoke so profoundly to me with its powerful themes of how all our lives are connected. Through the voice of Viola, the young protagonist, I began to travel with her on her epic and poignant journey from war torn Sudan to America.
'Viola's memorable, affecting voice will go far to help students step outside of their own experience and walk a mile in another's shoes.' School Library Journal.
As I closed the book Pam's words echoed through my mind:
I have never been able to stop putting books in people's hands. It's what I do.
Further Reading: