Time to draw unicorns - launching the Pictures First! competition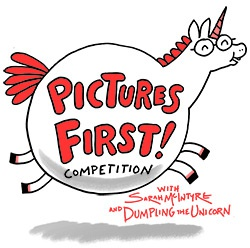 As our Writer-Illustrator in Residence, Sarah McIntyre is helping us set up a competition for children - and it all starts with PICTURES.
The word 'illustration' can be problematic. It assumes there's a story made of words first, and the pictures come later, to complement it. But that's not always how stories work. And people who make pictures are authors, too, since their pictures tell a story.
Sometimes a story will start with a drawing in a notebook or even a picture in someone's head. For example, C S Lewis had a recurring vision of 'a Faun carrying an umbrella and parcels in a snowy wood', which sparked off the Narnia books, and was later interpreted by the illustrator Pauline Baynes.
Writer-illustrator Philip Reeve often talks about Mortal Engines in very visual terms, playing as a film in his head. He was thinking of this painting by Pieter Bruegel the Elder, The Tower of Babel, when he came up with the idea for his book, but a tower on wheels.
I'll often make sketches of a character, and knowing how that character looks and moves will determine what the character does in the story. When I was coming up with the story for There's a Shark in the Bath, I drew this picture first, and it set the madcap tone for the whole book.
So let's spark some new stories!
Pictures First! competition: what you can win
YOU are going to draw the picture, I'll select the most intriguing ones, and a famous writer will write a very short story or poem, inspired by your drawing.
Some of these pictures will also go into a gallery on this website, for everyone to see and admire!
Let's talk unicorns
To give you a starting point in deciding what to draw, I'm going to set the main character and teach you how to draw a basic version of it. Let's make it a unicorn, give it glasses, and call it… Dumpling!
At the end of the project, we'll have a collection of stories about this character.


I don't just want to see ordinary pretty pictures of a unicorn with flowers and rainbows. Your picture needs to spark a story, and you have to give the writer lots of visual clues, interesting and unusual unexplained details they can use to inspire their story. And there needs to be some DRAMA, your unicorn is in some sort of peril, or caught up in a situation that makes the viewer think, HEY WAIT, WHAT IS GOING ON HERE??
This can be anything from danger (hanging off a ledge on Mt Everest, battling in a fighter jet) to embarrassment (suddenly appearing in front of the class in only polka-dot knickers, farting in a lift).
The people who win the competition will be thinking of several things:


WHERE is your unicorn? Is it deep-sea diving? At a chip shop? On Mars?
What's it standing on? Concrete? Lava? Moon craters? Broken crockery? Or is it falling from some great height?
How big is your unicorn? Is it tiny enough to live in a matchbox? The size of a pony? Or enormous like Godzilla? How can you show that in the picture?
Mood? Different colours can influence the mood of your picture. A yellow background might make it look cheerful and sunny - or possibly toxic. A spotch of red or hot pink can make something stand out so we notice it.
Is your unicorn wearing anything? It might be wearing anything from basic bows or a horse blanket to a full Marie Antoinette costume or a sparkly disco suit. It's mane and tail might be styled. Or not.
Who else? Are there other characters in the picture? A group of elves in a forest will suggest a very different setting to, say, a group of school children on a football pitch, workers on a construction site, or a Jurassic lake full of dinosaurs.
Expression? Does your unicorn look angry? Embarrassed? Worried? Over-caffeinated? Strangely chilled out, considering the dire circumstances?

I'd love to see whole classes get involved, but anyone can feel free to jump in!
How to enter
Once you've made your picture, you have a choice of three ways your parent, carer, teacher or other suitable grown-up can get it over to us:
Email digital@booktrust.org.uk with 'Pictures First! competition' in the subject line
Post to Anna McKerrow, BookTrust, G8 Battersea Studios, 80 Silverthorne Road, Battersea, London SW8 3HE
Tweet us @booktrust with the hashtag #DumplingTheUnicorn
Important bits and pieces
The competition is open to children aged 16 and under
Please tell us your age when you submit your drawing
Do not write any words on your picture or about your picture!
Do make sure, if you send the image digitally, that it is as high a quality as possible (ask a grown-up if you're not sure)
Include the contact details of your parent/carer/teacher/person sending the picture in on your behalf
Grown-ups can have a read of our other competition terms and conditions (PDF)
The deadline is 11pm on Friday 7 July
Download a fun drawing pack
I've created a downloadable pack you can print out, with pages you can stick to the wall to help inspire your kids as they draw. This is especially useful for teachers!
It includes:


How to draw Dumpling the Unicorn
How to make the pictures extra exciting
Quotes from authors whose stories have been inspired by pictures
So, get drawing...
I can't wait to see what you come up with!
Find out more about Sarah McIntyre and our other Writers in Residence
Check out our other competitions