Crazy About Cats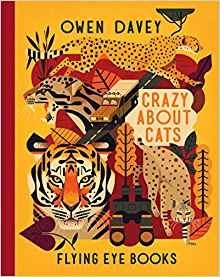 by Owen Davey
Reading Age: 7+
Interest level: 7-11
by Owen Davey
The third in Owen Davey's excellent animal series which has so far featured Mad About Monkeys and Smart About Sharks. Crazy About Cats is the latest to get Davey's impeccable illustration alongside the perfect level of clearly presented and fascinating information for upper primary children.
This beautifully produced hardback with great quality, thick paper pages isn't too long but has plenty to fascinate anyone even halfway interested in any catty creature, from lynx to lion. Particular favourite pages are cats presented to scale with a human (a tiger is terrifyingly large), the variety of unusual cats featured - margays, jaguarundi and caracal, among others - and Cat Mythology, which reminds us of cats' important spiritual nature and the need to revere our feline friends. Highly recommended.
Publisher: Flying Eye Books
More like this
Flying Eye Books

Monkeys are always a favourite with children, and this beautiful...

Flying Eye

Why are sharks such great predators? How do they hunt...