Daddy Do My Hair: Hope's Braids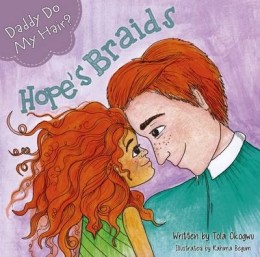 by
Tola Okogwu
Illustrated by Rahima Begum
Reading Age: 3-6
Interest level: 4+
by
Tola Okogwu
Illustrated by Rahima Begum
'There is something wrong with my big, frizzy mop. The children call me ginger and names like carrot top!'
When Hope comes home upset about what the children at school have been saying about her hair, it's up to her daddy to help her feel better. Armed with his trusty hairbrush and the power of a braid, will it be enough to make her feel good again?

The second title in the 'Daddy Do My Hair' series, this provides a gentle read on how to deal with anxieties around standing out and dealing with bullying from an early age. With soft rhyming text and charming illustrations, the book helps highlights the special relationship between father and daughter.
Publisher: Florence Elizabeth Publishing
More like this
Walker Books

George has made a cardboard house with jolly red windows,...

Florence Elizabeth Publishing

Each Sunday evening, when dinner is over, Beth heads for...