The Boy in the Tower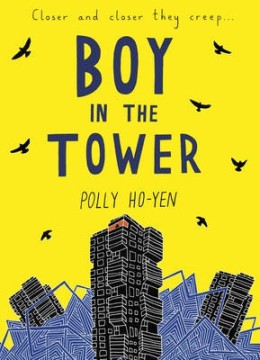 by Polly Ho-Yen
Reading Age: 9+
Interest level: 9+
by Polly Ho-Yen
'When they first arrived, they came quietly and stealthily as if they tip-toed into the world when we were all looking the other way.'
From the seventeenth floor of the tower block where he lives with his mother, Ade watches as the buildings fall around him. The Bluchers - a strange and terrible kind of plant - are taking over the city, and everyone is being forced to evacuate, but his mother is refusing to leave her room. And so Ade watches alone as the city slowly empties, and the Bluchers creep ever closer.
This book sounds like a straightforward science-fiction tale, in which Day of the Triffids style plants consume buildings and cast out deadly spores. In fact, it reads more like a fable about friendship, loyalty and bravery, beautifully told in the voice of a lonely young boy struggling to make sense of all that is going on around him - from the extraordinary events he sees from his window, to his mother's illness. Taking place in a believable urban, multicultural environment that will be familiar to many young readers, Polly Ho-Yen's debut is an impressively moving and thought-provoking story that will touch children and adults alike.
Publisher: Doubleday
About the author
What you thought
It is awesome 👏 you must read it it is about a boy that lives in a tower............................
Five star rating
12 plain pond wiveliscombe Somerset
23 February 2017
personally, it was boring
This book is totally amazing, I am reading it at the moment and I love it. It is mysterious and exciting, even if you found out one thing you always need to know more 😁😄. It is also very scary and deep (it makes you think a lot)
Yousra
London
18 January 2017
This is a really good book once you get into it but it didn't pull me in at first. A little complicated.
Elena
Oxford
17 December 2016