The Ruby in the Smoke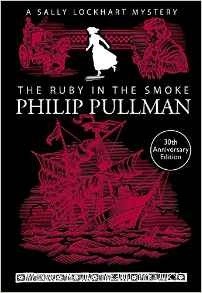 by Philip Pullman
Reading Age: 12+
Interest level: 12+
by Philip Pullman
After the sudden death of her father, Sally Lockhart is forced to go to live in London with an obnoxious cousin. There, she receives an anonymous letter containing a warning so dire that it makes a man die of fear at her feet. Determined to discover the truth about what happened to her father, Sally is soon plunged into a dangerous and terrifying adventure that takes her to the dark heart of Victorian London.
Inspired by the tradition of the Victorian melodrama, Philip Pullman's first Sally Lockhart story is a cracking adventure. Cleverly-plotted, bristling with excitement and brilliantly gripping, it also provides an intriguing insight into the injustice and inequality of Victorian society, making it rich and fascinating reading for older children, teenagers and adults.
Publisher: Scholastic
About the author
More like this
Scholastic

Lyra and her animal daemon live a carefree life amongst...

Random House

Apprentice clock-maker Karl must craft a new figure for the...
What you thought
Interesting but at times becomes boring. High word class a bit too complicated for Year 7 and under (11/12 years old and under)
Cana
tottenham
3 December 2016
I enjoyed this book. It was very interesting and I loved the plot
Tilly
brisbane
6 August 2016
This is a fascinating book for older children, teenagers and adults. This also shows you the injustice and inequality in the Victorian society.
Somia Ramzan
Sheffield
23 March 2016
An amazing book, nothing not to love about it!
AJ
Nowhere
29 November 2015
im muslim and proud. i am kind and respct the laws of islam so i will not be mean but this book is not as amazing as its plot. but i like it .
adam
new york
2 June 2015