Holes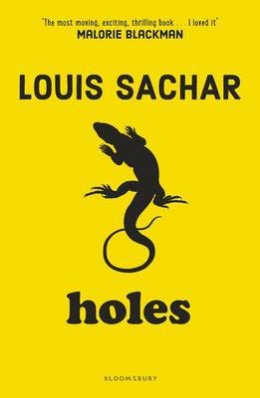 by Louis Sachar
Reading Age: 10+
Interest level: 10+
by Louis Sachar
Stanley Yelnats' family has a history of bad luck, so he is not entirely surprised when a miscarriage of justice sends him to the Camp Green Lake Juvenile Detention Centre in the middle of the Texan desert. There is in fact no lake there at all and not much green either. Stanley soon discovers that his work at the camp will be to dig a deep hole each day, and to report back about anything he finds there. Stanley gets to work - but he soon discovers there's more to the task he's been given than merely an exercise in character-building.
This witty, inventive and utterly compelling novel from Louis Sacharis a must-read for children and adults too. A deft mixture of seriousness and humour, it is told in a direct, simple style that belies the clever construction of Sachar's powerful narrative.
Publisher: Bloomsbury
About the author
More like this
Pan Macmillan

Since the death of his mother, Damian has become obsessed...

Bloomsbury

The author of Holes is back! This novel examines the...
What you thought
Really exciting with a good storyline.
Dark, enchanting and way more. This is a incredible piece of work and I could not put it down if I tried, it had some magnetic force... Anyhow, I would recommend this to any teen or an incredible reader
A ginger boy
Somewhere
19 May 2016
LOVE this book. I read it in school and did some literacy work on it!! it's just such a pageturner
I like the book, it's good, read it before in second year
Aruige
Glasgow
24 April 2016