Stig of the Dump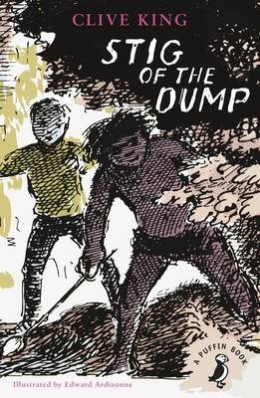 by Clive King
Reading Age: 8+
Interest level: 8+
by Clive King
Barney is a solitary little boy who often wanders off by himself in the countryside. Exploring an old chalk pit, he finds himself in a cave where he meets a strange boy who wears a rabbit skin and speaks in grunts. His grandparents don't believe Barney when he tells them about his new cave boy friend - but nevertheless, the two enjoy plenty of fun together.

This lovely story about the unlikely friendship between Barney and stone-age Stig has stood the test of time. Although it is now over 50 years old, contemporary children will love reading about the pair's lively adventures. Clive Kings' story is perfectly accompanied by Edward Ardizzone's classic illustrations.
Publisher: Puffin
What you thought
This story is the best story I have ever read in my entire life and I love ❤️ it. ❤️🕉😍🤑👄💅🏻👩👰🏻👸🏼💃🏻
Jessica
Cheshire
5 March 2017
The teacher is reading this to us in class and I really enjoy it.
Ryan D
Hull
29 January 2017
I love it very much and thank you for writing this book
5/5 very good
Can you please give it a 5/5
23 January 2017
This was my favourite book as a 7/8 year old in primary school (so 35 years ago!), and now my son is 7 (and an above average reader) I have bought it for him and he LOVES it! So pleased to have been able to get it for him, such a descriptive and engaging story!
David
Surrey
20 October 2016
I really like this book, I would definitely recomend this book (loved it!)
petru
England
17 October 2016