The Milly-Molly-Mandy Storybook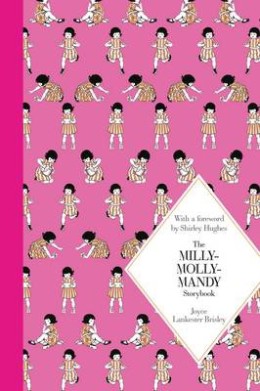 by Joyce Lankester Brisley
Reading Age: 7+
Interest level: 5+
by Joyce Lankester Brisley
Milly-Molly-Mandy lives with her mother, father, uncle, aunt, grandmother and grandfather in a 'nice white cottage with a thatched roof'. In each of these twenty-one stories, she sets off on an adventure, sometimes with the help of 'little-friend-Susan' or neighbour Billy Blunt.
First published in 1925, Milly-Molly-Mandy's stories now have a nostalgic charm that will appeal to parents and grandparents who will remember them from their own childhood. However, these gentle stories of activities such as giving a party or setting out on a picnic, told in simple and direct language, still offer much to attract today's young readers.
Publisher: Macmillan
What you thought
Snigdha
Ghaziabad
21 May 2016
I read these books when I was a young girl, now my daughter and I are reading them together. Highly recommend them.
Milly Molly Mandy is good because I like the stories. There are lots of stories in the book and she turns small things, like going to the shop into little adventures.
Chloë
Jersey
8 February 2015
I do not like mandy because she is boring and hardly does anything
molly
leeds
22 November 2014
WHY DO YOU LIKE THE MILLY- MOLLY MANDY? She is a good person WHY DO YOU THINK SHE IS A GOOD PERSON? Because she is fun WHY DO YOU THINK SHE IS FUN? I think she's fun because she is nice to people and she obeys
betsy
franklin T.N
28 October 2014