The Worst Witch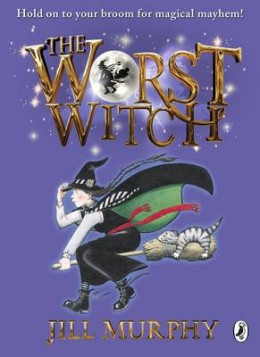 by Jill Murphy
Reading Age: 7+
Interest level: 6+
by Jill Murphy
Long before Harry Potter first went to Hogwarts, trainee witch Mildred Hubble embarked on life at Miss Cackle's Academy for Witches...

Loveable but accident-prone Mildred is probably the worst witch ever to attend Miss Cackle's Academy: her spells go wrong, her broomstrick crashes, and then she turns Ethel, the teacher's pet, into a pig! She can't even put her witch's hat on the right way round, and strict teacher Miss Hardbroom is not at all impressed. But when Mildred discovers a plot against the school, can she save the day?
Newly confident readers will love reading this light-hearted and humourous story, which has an irresistible young heroine in Mildred. With plenty of lively fun, plus illustrations from Jill Murphy, it remains a firm favourite.
Publisher: Puffin
About the author
More like this
Penguin

Mildred Hubble returns for her third year at Miss Cackle's...

Puffin

Mildred Hubble is actually looking forward to the new term...

Puffin Books

Lovable but disaster-prone trainee witch Mildred Hubble returns in this...
What you thought
5/5⭐️⭐️⭐️⭐️⭐️
Hounslow
2 June 2017
5 stars
Spiddal baile Liam Galway
4 April 2017
I like Mildred, Ethel, mrs hard room and Mildred's friends because I love witches, that's my thing
Kiki
Heanor
8 February 2017
The witches are serious and can be quite scary. Mildred Hubble is a witch who isn't very good but gets up to lots of funny stuff.
PrincessAriel
Liverpool
1 January 2015
MY ABSOLUTE CHILDHOOD FAVOURATES, READ THEM SO MANY TIMES AND WE READ THEM TO MY LITTLE GIRL!
Julie Rivers
Dewsbury
14 September 2014