Asterix the Gaul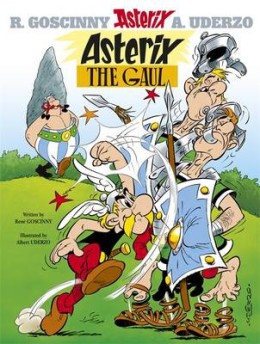 by
Renné Goscinny

Illustrated by Albert Uderzo

Translated by Anthea Bell and Derek Hockridge
Reading Age: 7+
Interest level: 7+
by
Renné Goscinny

Illustrated by Albert Uderzo

Translated by Anthea Bell and Derek Hockridge
In a tiny corner of Brittany, one small village of indomitable Gauls hold out against the almighty, all-conquering Romans. The Gauls are mighty fighters, but none more so than Asterix, a dauntless and cunning warrior who gets his tremendous strength from drinking a magic potion supplied to him by Druid Getafix. Together with his companion Obelix, he embarks on a series of adventures, beginning with rescuing Getaflix when he is captured by the Romans.
The first book in the hugely popular Asterix series is packed with puns, visual gags, funny anachronisms and plenty of mischevious humour, putting a tongue-in-cheek spin on history and cultural identity. Illustrated in bright comic-book style, this is a brilliantly witty and inventive book which will tempt even reluctant readers.
Publisher: Orion
More like this
Egmont

Resourceful junior reporter Tintin embarks on a series of exciting...

Puffin

Daniel Jackson Lim, or DJ, doesn't think he's good at...
What you thought
I love Asterix because it tells a story as if it is real! I LOVE ASTERIX!!!!!!!
Oscar
Wikwar
6 March 2017
I love the asterix comics! this was an amazing book and I really enjoyed it.
matty
london
10 June 2016
I love the asterix comics and they are the most incredible stories
Dylan2142waffle
Barby primary school
19 May 2016
Best book ever!!!!!!!!!!!!!!!
Shaunak
Pune india
18 February 2016
good but could have no pictures Im only 9 I should be learning to read storys without pictures!
Alisto0mberlane
auckland
30 September 2014