The Story of Babar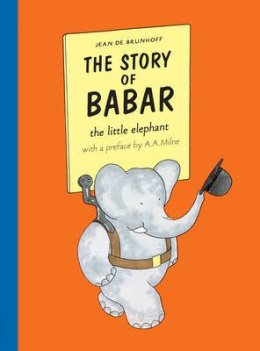 by
Jean De Brunhoff
Translated by Merle S. Haas
Reading Age: 7+
Interest level: 4+
by
Jean De Brunhoff
Translated by Merle S. Haas
' In the great forest, a litle elephant was born. His name was Babar...'
First published in the 1930s, this charming French classic tells the story of what happens to baby elephant Babar as he grows up. When his mother is shot by cruel hunters, a grief-stricken Babar leaves the forest and wanders to a nearby town. There, he is taken under the wing of a rich old lady, who dresses him elegantly. He learns mathematics and to drive a car - and even sleeps in a bed. But before long, he misses his fellow elephants, and soon he returns to the jungle,where he is crowned king of the elephants and marries his queen, Celeste.
With beautifully distinctive illustrations from Jean de Brunhoff, a sometimes surreal and sometimes moving story, and a loveable hero in the dignified Babar himself, The Story of Babar remains a firm favourite with children.
Publisher: Egmont
More like this
HarperCollins Children's Books

Paddington, the brown bear from darkest Peru, is found by...

Frances Lincoln Children's Books

Two great stories featuring the crew of the Black Pig,...

Orion

In a tiny corner of Brittany, one small village of...
What you thought
emma r
canada
10 February 2016
I think I liked The Story of Babar because I like the way the old lady took him in and managed to let him go.
Anna B
Bristol
6 February 2014