Princess Smartypants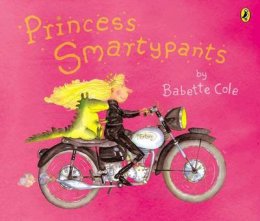 by Babette Cole
Reading Age: 6+
Interest level: 3+
by Babette Cole
Princess Smartypants does not want to get married. She enjoys being a Ms. But being a rich and pretty princess means that all the princes want her to become their wife. Find out how Princess Smartypants fights to preserve her independence in this riotously funny twist on the fairy-tale tradition.
With Babette Cole's hilarious illustrations and plenty of tongue-in-cheek humour, this anarchic story will delight children - and Princess Smartypants provides a brilliantly refreshing alternative to the traditional fairy-tale princess stereotype.
Publisher: Penguin
More like this
Random House

Doctor Dog, favourite pet and resident physician to the health-hazard...

Penguin

Prince Cinders leads a hard life, bullied by his three...

Bloomsbury Children's Books

Ten year old Penny Sims is pony mad and attends...