The Arrival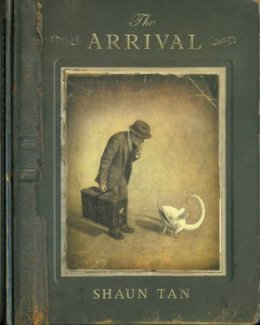 by Shaun Tan
Reading Age: 0+
Interest level: 7+
by Shaun Tan
In this unusual book, we follow a young man as he packs his bags and leaves his family to go and start a new life in another country. We experience his journey, his struggles to communicate, find accommodation, a job and food, as well as following the stories of other immigrants. The story ends with his family joining him and a hopeful future ahead.

This classic, wordless graphic novel perfectly expresses what it means to leave your country and your family and start a new life in a new country. Beautifully illustrated with black and white photo realist illustrations, and infused with surreal elements, it has a dreamlike atmosphere in which nothing is what it seems, and domestic appliances and landscapes transform themselves into strange beasts.
Children and adults of all ages will be enchanted by this moving story, which is also a wonderful starting point for exploring themes of immigration, alienation and language in the classroom.
Publisher: Hachette
About the author
More like this
Templar

This beautifully illustrated book of short stories explores unexpected and...

Hodder Children's Books

While walking on the beach collecting bottle tops, a boy...