A Monster Calls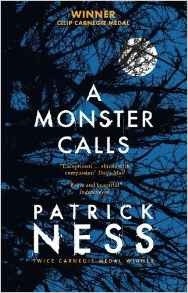 by
Patrick Ness
From an idea by Siobhan Dowd
Illustrated by Jim Kay
Reading Age: 10+
Interest level: 11+
by
Patrick Ness
From an idea by Siobhan Dowd
Illustrated by Jim Kay
Connor's mum has cancer and life is irrevocably, disturbingly changing. First there is the nightmare, filled with screaming and falling; then there is school, where people avoid him (not knowing what to say), or persecute him.
There is his enforced, combative intimacy with his distant, spiky gran. And then there is the Monster, immense, tree-like, mythic.
He comes at night, makes Connor listen to un-story-like stories, pushes him to the edge of what is bearable - because 'you know that your truth, the one that you hide, Connor O'Malley, is the thing you are most afraid of'.
Visceral, dark, sad, beautiful, hopeful and really, really angry, this is a beautifully structured, dense, layered novel about the monster that touches us all at some point. This extraordinary book was the first ever to win both the CILIP Carnegie and the CILIP Kate Greenaway Medals.
Publisher: Walker Books Ltd
Extract
Three Stories

He lay in his bed that night, wide awake, watching the clock on his bedside table.

It had been the slowest evening imaginable. Cooking frozen lasagne had tired his mum out so badly she fell asleep five minutes into EastEnders. Conor hated the programme but he made sure it recorded for her, then he spread a duvet over her and went and did the dishes.

His mum's mobile had gone off once, not waking her. Conor saw it was Lily's mum calling and let it go to voicemail. He did his schoolwork at the kitchen table, stopping before he got to Mrs Marl's Life Writing homework, then he played around on the internet for a while in his room before brushing his teeth and seeing himself to bed. He'd barely turned out the light when his mum had very apologetically – and very groggily – come in to kiss him good night.

A few minutes later, he'd heard her in the bathroom, throwing up.

'Do you need any help?' he'd called from his bed.

'No, sweetheart,' his mum called back, weakly. 'I'm kind of used to it by now.'

That was the thing. Conor was used to it, too. It was always the second and third days after the treatments that were the worst, always the days when she was the most tired, when she threw up the most. It had almost become normal.

After a while, the throwing up had stopped. He'd heard the bathroom light click off and her bedroom door shut.

That was two hours ago. He'd lain awake since then, waiting.

But for what?

His bedside clock read 12.05. Then it read 12.06. He looked over to his bedroom window, shut tight even though the night was still warm. His clock ticked over to 12.07.

He got up, went over to the window and looked out.

The monster stood in his garden, looking right back at him.

Open up, the monster said, its voice as clear as if the window wasn't between them. I want to talk to you.

'Yeah, sure,' Conor said, keeping his voice low. 'Because that's what monsters always want. To talk.'

The monster smiled. It was a ghastly sight. If I must force my way in, it said, I will do so happily.

It raised a gnarled woody fist to punch through the wall of Conor's bedroom.

'No!' Conor said. 'I don't want you to wake my mum.'

Then come outside, the monster said, and even in his room, Conor's nose filled with the moist smell of earth and wood and sap.

'What do you want from me?' Conor said.

The monster pressed its face close to the window.

It is not what I want from you, Conor O'Malley, it said. It is what you want from me.

'I don't want anything from you,' Conor said.

'Not yet', said the monster. 'But you will'.
About the author
More like this
What you thought
This was a compelling, suspenseful novel. It was as well-written as it was moving, and my favorite book. I especially love the art of the book, which could probably tell the story itself. The reader must be careful, though, not to be blinded by the sadness in the writing.
Nathan
USA
11 January 2017
5/5
World
8 November 2016
3
Stoke on Trent
6 September 2016
this is a great book. really complicated
sam
australia
17 May 2016
Let me just say one thing. Amazing. This book had such an amazing original plot and storyline. I was so amazed that I did something that I had never done before. I went on loads of websites and commented about this book. I'm a very picky reader but this just blew me away. At first I think that this was a very cliché kind of book, where the hero is amazingly handsome and makes one error and everybody forgives him. But this was not like that at all. Todd, or the Knife as some call him, has lots of trials and errors and messes up a lot. And the only thing he doesn't do is give up. And the idea of putting this in a different time zone and planet with its own quirky language was pure genius. This should have its own genre. I have never felt this moved or elated by a book. Never. So people, please read this book. This will benefit you in life. And this is coming from an 11 year old. Thank you.