Life: An Exploded Diagram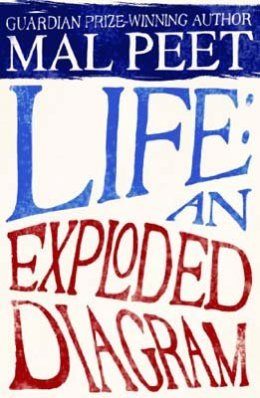 by Mal Peet
Reading Age: 13+
Interest level: 14+
by Mal Peet
Clem is a working-class boy who has made it to the local grammar school; his home life in 1960s Norfolk is permeated by his parent's unhappy marriage and the forbidding presence of his curmudgeonly grandmother. When Clem meets the beautiful Frankie, the daughter of a wealthy local landowner, the pair are immediately attracted to each other and embark upon a clandestine relationship.
In this intelligent young adult novel, Clem's coming-of-age story of first love and burgeoning sexuality is woven around a tense account of the mounting Cuban Missile Crisis and the looming threat of nuclear war. Soon the two story strands meet in a shocking and unexpected climax. Deftly written and highly original, this engrossing novel from an award-winning author offers a thought-provoking read for teenagers and adults alike.
Publisher: Walker Books Ltd
Extract
In the Cabinet room of the White House, President John F. Kennedy sat, as usual, halfway down the long table, with his back to the tall windows that looked out on to the rose garden. On the mantelpiece of the unused fireplace to his right sat a model of the Mayflower. Above that, a portrait of George Washington. Hidden in the light fittings, microphones that fed tape recorders in the White House basement. Of the sixteen men in the room, only JFK and his brother Robert - 'Bobby'- knew the microphones were there.
Two CIA men were in the room: Lundahl was the expert on aerial photography; Graybeal was the expert on Soviet missiles. On the table, mounted on boards, were three large, black-and-white aerial photographs of parts of Cuba. They'd been taken, through a powerful zoom lens, from a U2 spy plane. Lundahl used a wooden pointer to indicate items of interest.
'These are missile trailers, Mr President. Tent areas over here. This is equipment for erecting launchers.'
The men around the table leaned forward to the pictures.
'Are you sure? To me, uh, I dunno. Looks like it might be just the basement for a farm, or something.'
'No, sir,' Lundahl said. 'These rectangular objects here? These are medium-range missile trailers.'
'How do you know that? That these are for medium-range missiles?'
'From their length, Mr President,' Graybeal said. 'They are sixty-seven feet long, precisely the length of the Soviet MRMs paraded through Moscow last May Day.'
'I see. And the range of these missiles?'
Graybeal said, 'Launched from this site in Cuba, they'd come through the roof of this building thirteen minutes later.'
Bobby Kennedy whacked his bunched fist onto the table.
'Shit! Those sons a bitches Russians!'
'Are they ready to be fired?' JFK wanted to know.
'No, sir.'
Robert McNamara, the Defence Secretary, interrupted. 'We have some reason to believe that the nuclear warheads are not yet present. And hence that they are not ready to fire.'
JFK looked to the CIA missile man. 'Mr Graybeal?'
'That is correct, Mr President. Nuclear warheads require specialized storage facilities. We have no photographic evidence that these are in place.'
'So how long have we got? We can't tell, can we, how long before they could be fired? Before they're, uh, mated with the warheads?'
McNamara, a man with rimless spectacles and hair like thick black varnish, said, 'No. But clearly we do have some time before these missiles are ready.'
General Maxwell Taylor growled, clearing his throat. Taylor was the Chairman of the Joint Chiefs of Staff; in other words, the supremo of the armed forces. He'd parachuted into Normandy during World War II and had fought in Korea. He wasn't particularly fond of McNamara, whose previous job had been head of the Ford Motor Company. He wasn't particularly fond of the Kennedys, either.
'I have to disagree, Mr President. Time is what we do not have. The Soviets clearly have a lot in place. It's not a question of waiting for extensive concrete launching-pads or that sort of thing. They could hit us in days. Weeks, at most. We have to take these bases out now.'
'Can we do that with air strikes?'
'Not with one hundred per cent certainty, sir, no.'
'I see. So, uh, let's say we miss a couple of sites. Or leave them functional. Say, two or three Russian MRMs still ready to fire. What, we lose Miami? Atlanta? Washington?'
Taylor, a soldier, was unhappy about discussing casualties. Especially civilian ones.
He said, 'All this would be a preamble to the invasion of Cuba, obviously. We'd have to neutralize…'
'Yes,' JFK said. 'And are we ready to invade Cuba, General?'
'Our plans are at an advanced stage, Mr President.'
'That means no, I take it?'
'Yessir.'
A pause, then McNamara said, 'I don't know what kind of world we live in after we've struck Cuba.'
I'd like to think that the image of a globe of radioactive ash circling the sun might have flashed into the minds of those men at that moment. Maybe it did.
'Okay,' the president said, 'we meet again at six thirty. In the meantime, we keep the lid on this thing. No one talks; everyone thinks. That clear?'
'Sir.'
'Yes, sir.'
'I will fulfil my scheduled engagements. I don't want the press thinking that anything unusual is going on. General Taylor? Please confer with your Chiefs of Staff. By this evening, I want a realistic assessment of all military options, so far as that's possible.'
About the author
More like this