Things We Didn't See Coming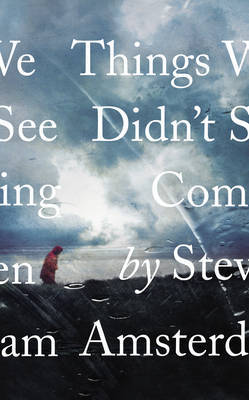 by Steven Amsterdam
by Steven Amsterdam
These apocalyptic stories make an oddly reassuring read. In the face of fire, flood, draught and plague, people remain basically the same they tell us. We are violent, tribal, insecure - yes - but creative, loving and cooperative too.

We meet the young narrator on the eve of the new millennium as he is given a warning about the prospects for his generation. His father believes humanity has become too interdependent, too arrogant and is headed for a fall. In the dozen stories that follow this grizzly prediction is proved right.

We watch him struggle to get by as food shortages divide society, farmers desert flooding pastures and eco-systems collapse. Yet it isn't all fire and brimstone. As disasters of world-historical proportions loom over the characters, these stories return constantly to ordinary human struggles for love, honesty and a place to call home.

His Grandmother wants to revisit the scenes of her youth, so they talk their way across the barricade separating rich from starving and embark on a series of food raids and car thefts. Multiple cancers afflict large numbers of the population so he develops tourist excursions for the terminally ill. When whole communities are uprooted by the elements he takes a job distributing grants from the government to help people get back on their feet and start again.

The narrator is a born survivor. Adaptable and independent, he is easier to admire than he is to like. If we were to make one criticism of the collection it would be that at times he can feel a bit of an empty vessel in a way that a first-person narrator shouldn't. Thankfully Amsterdam places him in a range of such brilliantly original situations that this is only noticeable now and then.

It's the author's eye for the uncanny detail: situations at once unrecognisable and familiar, that make this collection so memorable. Questions about the role of the state in great disasters feature prominently for example, but the bureaucracies these characters operate within share more with Futurama than 1984. Barbarism may be just around the corner but what you wear for a job interview still counts.
Publisher: Harvill Secker
About the author
What you thought
We know WHAT happened to the world but HOW did it happen? I felt the author did not address this major point. He probably didn't know himself but just described the outcome. Not enough for me. I only finished it because I wanted to discuss it at Book Club !
Genie
Suffolk
15 May 2012