Dear Zoo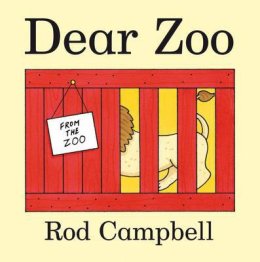 by Rod Campbell
Reading Age: 4+
Interest level: 2+
by Rod Campbell
This appealing story, in lift-the-flap, board-book format has been a favourite with toddlers ever since it was first published in 1982.
As you lift the flaps in search of an ideal pet, a host of different zoo animals will be revealed, until the right pet is finally discovered. Simple, stylish and highly interactive, this book invites constant re-reading. The sturdy flaps are perfect for small fingers to lift, and children will still love this book when they are ready to start school.
Publisher: Campbell Books
About the author
More like this
Andersen Press

This is an alphabet book with a difference, in which...

Red Fox

One of several books based on Anthony Browne's childhood memories,...
What you thought
I wanted to start a routine to get my baby to take naps in the day and to get her to sleep at night. Part of this was to read her a book before her sleep. A friend gave me Dear Zoo and we now have that both at nap times and at bedtime. My daughter gets excited when she sees it and now opens the flaps and turns the pages (she is now 8-and-a-half months old). I once tried to miss the book from her routine and there were many tears!
Editor's pick
Lisa
16 May 2011
My 20 month old daughter enjoys lifting the flaps and making some of the animal noises!
Editor's pick
Lucy
1 February 2011
Dear Zoo is read eight times a day and my daughter knows the books inside out now and can join in with me. The two books I received in my Bookstart pack are fantastic and my baby daughter thoroughly enjoyed them.
Editor's pick
Bookstart mum
6 January 2011
I have a pop up one and all my brothers and sisters love it.
Web_Browser
Barnet
26 February 2016
the book was very nice for my little sister oh my god it is a mircle
tanisha lester
statia
4 May 2015