I Don't Want a Posh Dog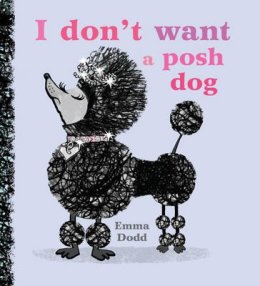 by Emma Dodd
Reading Age: 5+
Interest level: 3+
by Emma Dodd
Emma Dodd has the ability both to get inside the head of a toddler, and also to represent the essence of different kinds of dogs.
She uses both to great advantage in this rhyming and repetitive text, surrounded by comical illustrations of a small girl who desperately wants to own a dog.
In each spread 'I don't want…' is followed by a rhyming phrase (and a splendidly exaggerated representation of the type of dog this describes), which invites even the youngest of readers to join in, predict and learn the text.
It also shows them that even the most unexceptional dog can be special, when it becomes a pet. Entertaining, filled with possibilities for carer and child discussion, funny and charming!
Publisher: Orchard Books
About the author