Room on the Broom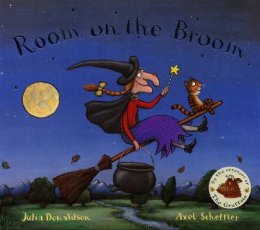 by
Julia Donaldson
Illustrator: Axel Scheffler
Reading Age: 6+
Interest level: 3+
by
Julia Donaldson
Illustrator: Axel Scheffler
From former Children's Laureate Julia Donaldson and longtime collaborator Axel Scheffler comes this much-loved tale about a witch and her gang of friends.
While flying with her cat on her broomstick, the wind blows a witch's hat from her head. Luckily, a friendly dog rescues it and, as a reward, is invited to travel with them on the broom. Throughout the tale, she encounters a series of other characters who each help the witch to recover various possessions that she loses along the way - but will there be enough room on the broom for them all?
This favourite picture book is a real delight: an ingenious and humorous story with a rhythmical text that is ideal for reading aloud. Axel Scheffler has artistically surpassed himself with the brightly-coloured illustrations, which give convincing and expressive features to all the different characters.
Publisher: Macmillan Children's Books
About the authors
More like this
What you thought
james mcloughlin
england
10 May 2015
This is my most favourite book and I know all the words.
all my kids love this book even the 10yr old and my husband loves the rhyming Julia Donaldson books as they're fun to read aloud.
jo
sheffield
15 November 2013
Brilliant rhyming text and a lovely story about how friends help each other out.
Rachael Smithdale
Putney
10 October 2013
Lisa Spencer
Hornchurch
7 October 2013