Once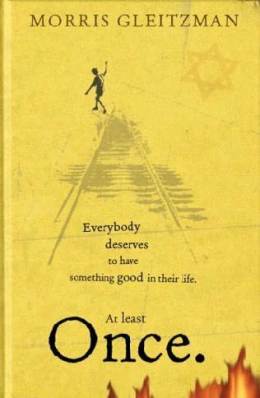 by Morris Gleitzman
Reading Age: 9+
Interest level: 10+
by Morris Gleitzman
Felix has lived in a Catholic orphanage for over three years but always hopes that his Jewish bookseller parents to come for him. Alarmed by the sight of what he assumes are official 'librarians' burning Jewish books in the orphanage, he sets off in search of his parents to warn them of the danger.
On his travels Felix uses his natural optimism and storytelling gift to explain away the horrific events he witnesses in Nazi-occupied Poland. His stories bring hope to the children of a ghetto and ultimately comfort to them on their final train journey.
Morris Gleitzman brings heart and humour to the difficult subject of the Holocaust in this ground-breaking children's book. Told in simple yet powerful language, his story reveals the redemptive power of stories and the potential for humanity and hope even in the most tragic times.
Publisher: Penguin
About the author
More like this
What you thought
it is a good book and it makes you read the next book
Farham
41 melrose road
19 June 2017
This book is so moving. It makes you think how the war was so difficult to understand to children and that people were killing others for just one reason. Out of 5 I would have rated this title 6 OUT OF 5
santa
north pole
4 December 2016
this 'once' (haha) I will give this 5 star cause it is so heartbreaking. 'Once' (haha) you start reading, you can not stop! hahahahahahahaha!!!!!!
SOMEONE
privatesorry
12 October 2016
This book is so intriguing!
Girl
Perth WA
19 August 2016
This book is amazing! I am glued to these books. This is the best book I have ever read.
Arya
Western Australia
30 October 2015