Matilda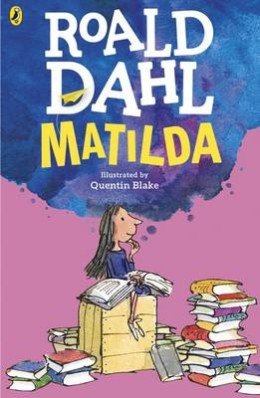 by
Roald Dahl
Illustrator: Quentin Blake
Reading Age: 8+
Interest level: 7+
by
Roald Dahl
Illustrator: Quentin Blake
Matilda is not yet five years old, and already she is a very unusual child. Teaching herself to read, she works her way through all the books in the children's library and then gets started on the adult section, to the amazement of the librarian. Her narrow minded parents don't notice that they have a genius in their midst - but is soon becomes clear that underestimating Matilda is a big mistake.
When she starts school at Crunchem Hall, Matilda meets the frightening and bullying headmistress, Agatha Trunchbull, and witnesses her terrible temper. Soon, she puts her very special talents to work to get the better of Miss Trunchbull and the other unpleasant grown-ups around her - as well as to help warm-hearted class teacher Miss Honey.
This modern fairy-tale with a brilliantly inspiring young heroine is one of Roald Dahl's best loved stories. Full of magic and mischief, children will love witnessing Matilda pit her strength, courage and cool intelligence against the nasty and spiteful adults in her life, and ultimately coming out on top.
Publisher: Puffin
About the author
More like this
What you thought
I think this was good for an age of 6-12 year olds and I learned more about this story
Kaea
Morrinsville
7 June 2017
Emma
London
30 April 2017
The book is about a little girl who is unusually to other kids
Andiswa
Phoenix
2 April 2017
A funny classic kids will love. I really recommend this for kids ages 6-12
I can learn that must have strength,courage and cool intelligence against her nasty and spiteful adults in my life and ultimately coming out from top.This is a very fun,interesting and fantastic book I have ever read.I hope I have one this from all the books.
audry
keningau,sabah,malaysia
4 January 2017